Serb teen blogs about democracy
Unlike most teens, 13-year old Belgrade native Rastko Pocesta is concerned about the direction of his nation. So much so, that he's devoted himself to the life of a political commentator and human rights activist.
Serb teen blogs about democracy
Rastko Pocesta is a politcal commentator for his blog Heimatlos. Here you can read all about his musings on the state of worldwide politics. Although it's inspiring (and downright impressive) to read Raskto's intellectual observations, he's actually received threats from far-right groups in Serbia for sharing his anti-nationalist views.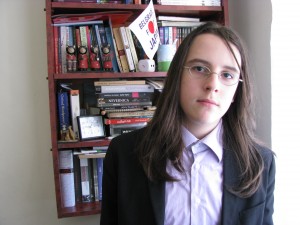 Reporter Melanie Sevcenko on meeting Rastko:
I met Rastko one sunny Saturday afternoon in Belgrade. We exchanged a few text messages to arrange a meeting, but I suggested his flat downtown, since I wanted to get a glimpse of his liar, where he writes is proactive blog Heimatlos about Serbian and global politics. After googling Rastko online to get a little background information, I soon realized he was a bit famous, having appeared in the international media. So I have to admit, I was a little nervous gearing up to meet the boy wonder! At promptly 2:00 pm, Rastko opened the door to his ground floor apartment, which he shares with his mother, very shyly peeping his head through the crack in the door.
My colleague and I entered his humble flat and took a look around, attempting to make small talk while we set up the camera and microphone. Rastko was dressed in a suit jacket, collared shirt, neat slacks and shiny black shoes. His straight shoulder-length hair gave him a sort of scholarly sophistication, but it was obvious he wasn't used to interviews. He is, I kept having to remind myself, only 13 years old. I asked him questions about his work, his blog, his political views on his nation and his thoughts about kids his age. Getting him to open up in a personal way was a challenge, but he spoke clearly and articulately about politics, so it was enough to understand his passions and his place within Serbia. But above all else, I was surprised by his nonchalance towards his endeavors and the public's perception of him – some are quite supportive, while others have made violent threats.
But Rastko has vowed to never step down and to never stop fighting for what he believes in, which is a true test of democracy. For Rastko, it seems only natural to take on such a responsibility as he has, especially at such a young age. Raskto is a defender of human rights and a self-proclaimed Marxist, democratic socialist, pacifist and anti-capitalist, which is quite a hefty title for someone barely in his teens. But most important are Rastko's intentions and visions. He seeks a more open society in Serbia and a better world for people who are oppressed – whether immigrants, minorities, or gays – and for people who think differently, like himself.
It was a delight to meet Rastko and an eye-opening experience to witness how much young people can actually do in their worlds, no matter how tiny they may seem to others.
 
Date
Monday 10.10.2011 | 15:40