Search Results for Tag: AIDS
Crossing continents to reach kids in a Nairobi slum
Their lives couldn't be more different, but Amelia in France and Regynnah in Kenya have the same goal: to make life better for kids in Nairobi's largest slum who've been orphaned by AIDS.
Listen to the report by Nik Martin from Lyon:
Crossing continents to reach kids in a Nairobi slum
More on the Angels of Hope Kibera website.
Date
Tuesday 23.10.2012 | 12:40
Liberian radio host helps fight HIV on air
When Cornelius, 23, returned home to Liberia after 10 years in a refugee camp, he decided to do his part to rebuild the post-war country. He's breaking barriers and changing lives by talking about sex on the radio.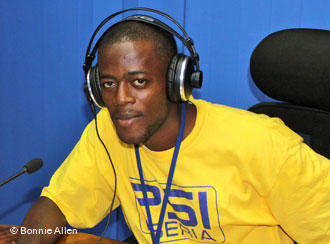 Date
Wednesday 10.08.2011 | 14:55