Search Results for Tag: freedom
The challenges of freedom of expression
Freedom of speech and expression continue to spark debates around the globe: from the release of WikiLeaks files, to caricatures of the prophet Muhammad, and from staging a rock concert in a church to publishing news about minorities. Wherever the issue emerges, it's often controversial and it often involves the media.
DW examines the background of the various contexts in which freedom of speech and expression is both fought for and restricted.
Check out all the content here.
Date
Thursday 20.09.2012 | 09:15
Syrian activist uses mobile phones to campaign for freedom
Syria is not experiencing a Facebook Revolution; it's more of a mobile phone uprising. And 24-year-old activist Rashid is risking his personal safety to fight for democracy in his country.
Syrian activist uses mobile phones to campaign for freedom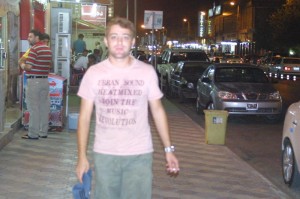 From reporter Reese Erlich:
Erbil, Kurdish Region, Iraq
I wasn't sure what to expect when setting up an interview with a grassroots leader of the Syrian opposition. We were both staying in the relative safety of Iraq's Kurdish Region, far from the long arm of Syria's Mukhabarat (military intelligence).
But still, Ciwan Rashid didn't want to meet me at home. We agreed to do the interview on a crowded Erbil street with a shopping mall and restaurants. He gave me his name, but it's a nom de guerre.
Rashid lives in the predominantly Kurdish region of Syria. Kurds have long faced discrimination at the hands of the Syrian government. Rashid says all Syrians face repression, but "Kurds in Syria faced even more repression than others."
Rashid, like many other Syrians, watched the Tunisian and Egyptian uprisings with great anticipation. In Syria, demonstrations started in Damascus in March, caught fire in the southern town of Dara and ultimately spread to the northern Kurdish cities as well. Rashid immediately joined the protests.
"I wasn't afraid," he told me. I asked why not. After all, people were being arrested, tortured and killed. "There are two choices," he said. "One is to escape and survive. The second is to die. If I survive, I will have my freedom."
Date
Tuesday 25.10.2011 | 14:32