What a +4° Celsius world would look like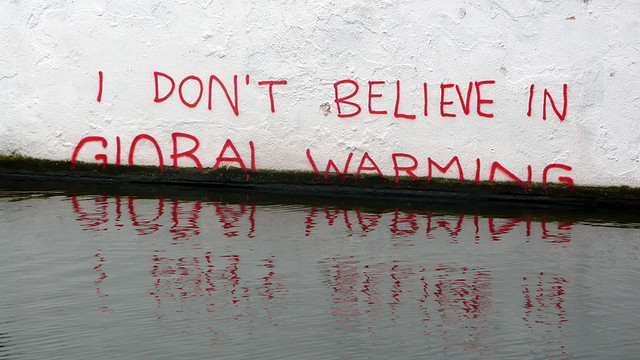 The next climate conference is to start in Doha, Quatar this Monday – but already before it is started, participating parties are not really optimistic about a practical outcome.
This is especially striking when set into relation with the urgence of the world's situation: First opinions come up claiming [german languange link] that it is not realistic anymore to limit global warming to plus two degree Celsius when compared to predindustrial level.
In this context, the World Bank released a new report last week. Written by the Potsdam Institute of climate change, they again outline what is to happen with the worlds (eco)systems in a +2 degree-world – and forecast what is to happen in a +4-degree world.
Put in simple matters: Consequences of additional four degrees won't just be an extension of what is felt at two degrees. Naively one could guess that as temperature doubles from two to four degrees, effects "double" as well. But that is not the case. They amplify even more intense.
To give you an impression of what to expect in a +4 degree world, we have summarized the most important facts.
The only good news: According to the World Bank report, there are "technically and economically feasible emissions pathways to hold warming likely below 2°C.
Compared to the preindustrial level, the world nowadays is 0.8° Celsius warmer than back in the 1850s.
A warming of (more than) four degrees might cause several ecosystem elements to tip – and alter climate irreversibly.
Extreme heat waves such as in Russia in 2010 are likely to become the new normal summer. In fact, the coolest month in that high-temperature future are likely to be substantially warmer than the warmest month at the end of 20th century. This is especially at play for the Mediterranean, North Africa, the Middle East, and the Tibetean plateau.
Not all regions will suffer from the consequences to the same extent. The increased sea-level for example will not be equally distributed all over the globe, but water will tent to gravitate towards the Equator. Highly vulnerable cities in consequence are found in Mozambique, Madagascar, Mexico, Venezuela, India, Bangladesh, Indonesia, the Philippines, and Vietnam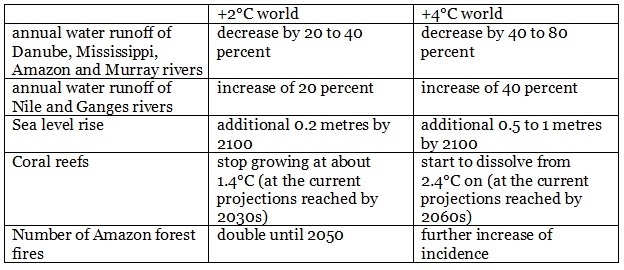 So far, not all impacts of additional four degree have been investigated – especially concerning those for societies. No one yet knows, whether humans in their societal and economical structures will be able to adopt to a 4°c world.
But already the known impacts and consequences should be enough input to move decision makers to action.
Tags
2 degrees
,
4 degrees
,
believe
,
celsius
,
climate
,
cop18
,
doha
,
global ideas
,
global warming
,
hoax
,
pik
,
potsdam institute
,
qatar
,
research
,
world
,
world bank