Search Results for Tag: Denmark
World's Largest Solar Thermal Plant in Saudi Arabia is online
The plant started working a few days ago after a six-month trial period and build-up. It's based in Riyadh, Saudi Arabia's capital and largest city. The facility is almost five football pitches (36.000 m²) big and doubles the size of the former chart-topper in Denmark. With the new solar power plant, it's now possible to produce enough energy to heat water for 40.000 students at the Princess Noura bint AbdulRahman University, the largest women-only university in the world. The campus consits of 15 academic faculty buildings, various labs and a 700-bed hospital. The $14m plant was manufactured by Austrian research institute GREENoneTEC company and constructed by Jordanian engineering company Millennium Energy Industries. The plant operates via 36,305m2 of solar panels. And based on the lifespan of these panels, the facility could save about 52 million liters of heating oil and 125 million kilograms of CO2.
The Little Island That Could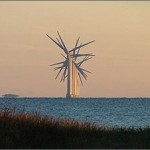 Have you ever heard about the small Danish island called Samsø? It's home to only 4,000 people and stretches over about 103 square kilometers of land…and it's 100% energy self-sufficient! Using a combination of offshore wind power, solar energy and biofuels, Samsø has created a green haven, cutting CO2 emissions by an incredible 140% in just 10 years.
The model has been so successful that Samsø even exports energy to mainland Denmark and acts as a model for other islands that are interested in developing renewable energy. It's become a local attraction, too: around 20,000 people flock there during the summer. So what can the rest of the world learn from Samsø? Is a completely energy efficient life possible in bigger regions with large populations, too?