Search Results for Tag: facility
World's Largest Solar Thermal Plant in Saudi Arabia is online
The plant started working a few days ago after a six-month trial period and build-up. It's based in Riyadh, Saudi Arabia's capital and largest city. The facility is almost five football pitches (36.000 m²) big and doubles the size of the former chart-topper in Denmark. With the new solar power plant, it's now possible to produce enough energy to heat water for 40.000 students at the Princess Noura bint AbdulRahman University, the largest women-only university in the world. The campus consits of 15 academic faculty buildings, various labs and a 700-bed hospital. The $14m plant was manufactured by Austrian research institute GREENoneTEC company and constructed by Jordanian engineering company Millennium Energy Industries. The plant operates via 36,305m2 of solar panels. And based on the lifespan of these panels, the facility could save about 52 million liters of heating oil and 125 million kilograms of CO2.
Jordan's Green Machine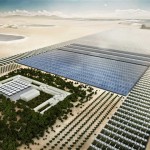 Jordan's government has approved a revolutionary new green project that could transform the country's desert into a green oasis and provide basic necessities like food and water to boot. An environmental technology group called the 'Sahara Forest Project' is creating a massive facility in the desert city of Aqba that promises to turn transform sun and seawater into food, energy and clean drinking water.
And to top it all off, the facility could combat climate change too by pulling in large amounts of carbon dioxide from the atmosphere. An MSN article on the project describes more of the details, including how the solar power plant and the greenhouse system will work.
The facility in Aqba will actually be a demo plant so developers can see how it works before creating more. And it could be up and running as early as 2012. Is this the way of the future for desert landscapes? Would this kind of project work in your country?