Search Results for Tag: drought
Some like it hot… 2012 sets new record
So, 2012 is now officially the hottest year ever recorded in the US. It brought a record breaking drought, registering the hottest month ever and leading to record breaking grain prices and record breaking crop insurance fees. 2012 also produced super storm Sandy, which led to record breaking low pressure in the US Northeast and record breaking storm surges hitting New York City.
Namibia's big discovery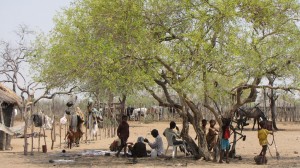 Namibia's government has made what looks to be a major discovery: a new aquifer that could be the answer to water shortages. One of the researchers on the discovery team is Martin Quinger, a project manager for the German Federal Institute for Geosciences and Natural Resources, told the BBC that the vast water deposit could supply northern Namibia for an incredible 400 years. And that is especially important for a country that is considered the driest in sub-Saharan Africa.
The aquifer, called Ohangwena II, straddles the border between Namibia and Angola, and Quinger says it could be as much as 10,000 years old…but don't worry, the water is still fresh and safe to drink. As climate change brings around an increasing number of dry spells and drought, the water source is a major discovery.