Search Results for Tag: weather
Climate change linked to more violence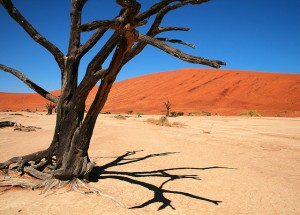 Even small changes in average temperatures or rainfall can cause people to become more aggressive and resort to violence. That's what a new study published in Science by researchers from the University of California, Berkeley claims. The researchers say there's a "substantial" correlation between climate and conflict, including domestic and ethnic violence.
Their examples include an increase in domestic violence in India during recent droughts, and a spike in assaults, rapes and murders during heatwaves in the US. The researchers also say that with the current projected levels of climate change by 2050, the world is likely to be a more violent place. They estimate that frequency of violence between individual people could rise by 8 to 16 percent and conflicts between groups by as much as 28 to 56 percent.
Marshall Burke, from the University of California, Berkeley, said: "This is a relationship we observe across time and across all major continents around the world. The relationship we find between these climate variables and conflict outcomes are often very large."
The researchers looked at 60 studies from around the world with data spanning hundreds of years. Some of the individual studies they examined looked, for instance, at whether people blow their horns more with rising temperatures or whether players at a baseball game are likely to play rougher. But they also studied rapes and murders, violence between groups such as conflicts between Hindus and Muslims in India, land conflicts in Brazil and civil wars in Africa.
The authors said that in all of the studies of modern societies they looked at, higher temperatures showed a correlation with rising rates of violence. Though the researchers say they do not want to attribute any single event to climate in particular, they say economic and even psychological reasons – with some studies suggesting that heat causes people to be prone to aggression – could be at play.
"One of the main mechanisms that seems to be at play is changes in economic conditions. We know that climate affects economic conditions around the world, particularly agrarian parts of the world," Burke said. "There is lots of evidence that changes in economic conditions affect people's decisions about whether or not to join a rebellion, for example."
It's not the first time that a warming climate has been linked to climate. The United Nations has warned that the growing number of climate refugees displaced by extreme weather could lead to conflict. The UN estimates that between 150 to 200 million people will be forced to flee climate changes by 2050.
Some like it hot… 2012 sets new record
So, 2012 is now officially the hottest year ever recorded in the US. It brought a record breaking drought, registering the hottest month ever and leading to record breaking grain prices and record breaking crop insurance fees. 2012 also produced super storm Sandy, which led to record breaking low pressure in the US Northeast and record breaking storm surges hitting New York City.
Warm Planet, Cold Winter
If you haven't noticed, winter has been especially harsh this year. Much of Northern Europe is in a deep freeze, and any passengers flying through London, Frankfurt or Paris know all too well what this winter has done to travel plans. The U.S. and Canada have been slammed with major snow storms that have left people stranded and desperate during the holiday season. And it's only December…
Some people are wondering: if the planet is getting warmer, why is it so cold? The New York Times has an interesting op-ed article about the reasons behind this trend. The author, Judah Cohen, says increased snow cover in Siberia actually has a major impact on our climate–but he believes scientists have ignored the region's role in warming and cooling earth.
Cohen says snow cover in Siberia has changed jet stream patterns, pushing more air north and south rather than just east and west. That's why Northern Europe and the U.S. have seen such extreme winter weather in recent years. What do you think? Is Cohen's theory a good explanation?
Tags
climate
,
cold
,
Europe
,
Judah Cohen
,
New York Times
,
planet
,
Siberia
,
snow
,
U.S.
,
weather
,
winter