Search Results for Tag: money
Water blog Part II – should water be privatized?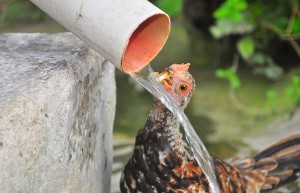 In the second part of our special blog series on water, Julian Claudi asks – is it necessary to privatize water, what are the different approaches around the world and what has happened in instances where a private corporation has indeed got its hands on the neighborhood pump or the household tap?
To pick a prominent example of the kind of passions and conflicts water privatization can unleash, let's go back to the year 2000 – to Bolivia. There, the Andean city of Cochamaba erupted in protest after a private, foreign-led consortium took over the city's water system. The previous year, in September 1999, the Bolivian government privatized the water supply in Cochamaba and allocated the rights to Aquas del Tunari, an affiliated company of Bechtel Corporation (Bechtel Group) which is ranked as the fifth-largest privately owned company in the US.
It must be said that Cochabamba suffered from a chronic water shortage. Most of the poorest neighborhoods were not hooked up to the network, so state subsidies to the water utility went mainly to industries and middle-class neighborhoods. In the World Bank's view, it was a city that was crying out for water privatization.In a nutshell, the World Bank threatened to freeze credit to Bolivia if it did not privatize water.
But the consequences for the people were drastic – Aquas del Tunari raised the water rates many times over, which led to a national uprising. As a result, the Bolivian government backtracked and disbanded the contract with the company. In turn, Bechtel tried to sue Bolivia for over $50 million in compensation. Battered by several years of bad publicity, Bechtel finally settled the $50 million lawsuit for a symbolic amount of about 30 cents on January 19, 2006.
To get a glimpse of what happened in Bolivia in 2000, it's worth watching "Abuela Grillo," an animated short film by a group of Bolivian artists which is based on the events in Cochamaba as well as on a myth from the Bolivian lowlands and deals in a metaphorical way with the issue:

Abuela Grillo from Denis Chapon on Vimeo.
The European Union may be far away from such a scenario nowadays, but there are already over one million Europeans who have signed the citizen's initiative "Water is a human right". Their biggest worry is that the EU will privatize European waterworks in the mid-term and through the back door.
The reason for the concerns are a much quoted proposal from the EU Commission to change a concessions directive to bring more market competition between public and private water suppliers "to ensure that EU companies have access to business opportunities and that public authorities get the best value for money."

At the same time, the Commission insisted repeatedly in several press releases earlier this year that "the proposed directive will therefore not lead, under any circumstances, to imposed privatization of water services."  So will that really be the case? Not exactly, according to the non-profit foundation and campaign group Corporate Europe Observatory (CEO). It says the planned directive on concessions of the EU commission could have unforeseen consequences.
"Municipalities who have some form of private participation in their water supply, even a small part, would have to offer their water contracts for EU-wide bidding. This would give private water multinationals like Suez and Veolia new opportunities to expand," the group says.

At the end of June this year, the EU Commission then unexpectedly said it would reconsider its position in light of "the concerns expressed by so many citizens."
It's probably not the last word in the public discussion about water privatization in the European context. Meanwhile, in many places around the world, water privatization is already a hot button issue with various models and strategies being discussed, practiced and fought against.
Advocates of privatization have many arguments. A common one is that "private entrepreneurs are more efficient in increasing access to clean drinking water and have more technological skills and more assets for investment."
Another is that privatization is the right thing in general if "a government that is strong enough to uphold regulations and to force the private company to do a good job."

Meanwhile, opponents have their own list of convincing points – mainly that the environmental price for privatization is simply too high. "Privatization has been accompanied by the degradation of water quality, increase in water loss, deterioration of infrastructure and increase in prices," according to some.
There are yet other, more moderate voices that suggest that say that water must have a certain price to avoid ongoing water scarcity in many places. The Irish think tank, Institute of International and European Affairs (IIEA), for instance, comes to the conclusion that "water pricing" is an option which must be considered:

Another school of thought sees a constructive solution in re-municipalization – that means putting the water supply back in public hands. That's what happened in Paris and Argentina:
A project from Greece called "Initiative 136" takes a different tack. It's an attempt at a third way by avoiding both water privatization as well as public-private-partnerships.
"The idea is that if every water user bought a non-transferable share, 'the public could own the water company through a system of neighbourhood co-operatives of water users coming together through a single overall co-operative.'136 euros is the figure you get from dividing the 60 million euros for which the company is to be put on the stock market by the number of water meters in the city."
At the time, activists from the citizen campaign "Human Right to Water" are going in the same direction but aiming at high level EU institutions directly. "We are taking up the challenge to get implementation of the human right to water and sanitation' on the European political agenda," they say.
Meanwhile in Bolivia, residents of Cochabamba's southern zones "frustrated with both the private and public water management models,[…] are increasingly relying on traditional community-run water systems as an alternative."
There are a host of players involved in the water privatization debate – public state supply advocates, private companies, public-private-partnerships and cooperative citizen shareholder movements. They all have their own concepts about how access to water can be best ensured. In the best case, the different ideas will merge into a sustainable and resilient supply system and contribute to a fair and free global right to water distribution for everyone.
Surely this goal is only achievable under the premise of a local and global framework of sustainability and participation and not with an overarching focus on profit.
A phone call against climate corruption
Fighting climate change has spawned a massive industry with vast sums of money sloshing around relatively new and untested channels. That has opened the door to bribery and corruption.  Our reporter Franziska Badenschier has more.
Transparency International's anti-corruption hotline in its Kenya office recently received a disturbing call. The caller claimed that someone was planning to build a private crematorium on a piece of public land on the coast and clear mangroves in the area. Judy Ndichu and her colleagues at the "Advocacy and Legal Advisory Center" at Transparency International in Nairobi were alarmed.
"For one, mangrove forests are a fragile ecosystem and on the other hand, they form a barrier to protect the mainland since most coastal areas in Kenya are threatened by rising sea levels. In addition, this is a protected forest area," Judy Ndichu said. She was speaking at a recent event organized by the Forum for International Cooperation for Sustainable Development (f.ize) in Berlin.
The call prompted Ndichu and her colleagues to dig deeper into the issue. "We found that a million Kenyan shillings (around 8,800 Euros) had changed hands in the form of bribes so that the case wouldn't get out in the public sphere," Ndichu, who works for the "Climate Finance Integrity Program" at Transparency International, said. Ndichu's team handed over the case to the National Environment Management Authority and Kenya's Ethics and Anti-corruption Commission. "Finally, the project was stripped of its license," Ndichu said. It may sound like a small victory against corruption in the environment and climate sector. But for Judy Ndichu, that's better than not reporting it at all.
The case is by no means an exception in the booming sector that has emerged to fight climate change. The issue was the focus of the "Global Corruption Report  in 2011. "The efforts to rein in climate change and react to it will come with a huge price tag," the report said. When huge sums of money flow through new and untested financial markets and mechanisms, there is always a risk of corruption, it said. Estimates suggest that $700 billion will be invested by 2020 in measures to reduce greenhouse gas emissions and slow the pace of climate change. And each year, at least $250 billion in public funds will flow through channels that are "new, relatively uncoordinated and untested," the report said, adding the situation was certainly vulnerable to bribery and corruption.
That's why the African Central Bank, the United Nations Environment Program, the World Bank and other international institutes have long grappled with the best way to spur honest people to report about corruption and abuse in the fight against climate change. "In Kenya, for instance, these multilateral institutions have set up their own complaint cells," a member of Transparency International in Berlin said.
But that could lead to problems too. A potential whistleblower in Kenya could be forgiven for being confused about which office to approach with a complaint. Besides, how do you ensure that the whistleblower is protected so that he's not hounded later by those he exposes? Transparency International's answer to that is setting up a central hotline.
"The anti-corruption helpline. Call 0800-720-721 or text 3129 for FREE assistance on CORRUPTION-related cases." That's what it says on stickers plastered, for instance, on taxis in Kenya. Since the end of last year, Kenyans can anonymously call the number to complain about corruption and bribery in any sector whether climate, health or education.
So what's the watchdog's verdict six months on? "We get an average of 64 calls each month and around five of those relate to climate issues," July Ndichu said. The land grabbing case on the coast was one of them. Judy Ndichu hopes the hotline will prompt further calls and shed light on shady deals and corruption in the country.
Act now – or you're (perhaps) wasting money
If planet Earth's fate is not strong enough an argument for fighting climate change, perhaps money is? Researchers now calculated the costs of climate change: They found that costs enormously increase the longer politicians put off taking action. So are our economies prepared to take the hit?
About 200 country leaders agreed at the UN climate conference in Doha last December to (further) lower greenhouse gas emissions from 2020 on. That is how they want to keep global warming in check limiting it to two degrees compared to the preindustrial level.  "If you delay action by 10, 20 years you significantly reduce the chances of meeting the 2 degree target", Keywan Riahi, IIASA energy program leader and study co-author told Reuters news agency.
The scientists developed a freely available software-tool to test under which conditions the two-degree-target is most likely to be obtained. For the first time, they included all important variables in their calculation:  the time elapsed until first action takes place,  future energy demand, carbon prices, new energy technologies, and uncertainty about how the climate system reacts.
Though all of them are important, the most crucial one is the time it takes until you take action, Riahi says: "With a twenty-year delay, you can throw as much money as you have at the problem, and the best outcome you can get is a fifty-fifty chance of keeping temperature rise below two degrees."