Search Results for Tag: project
Chopper Madness
Juan Zacarias always carries a camera with him. He keeps his eyes open for the next great shot and is continuously taking pictures. I was glad to have him on board for shooting my report at a sewage plant in Nicaragua. Out of the blue we got a chance to take a helicopter flight over the area with the plant and the amazing lakes surrounding it. Juan was thrilled. The weather was great when we took off. The chopper took us over Lake Managua which is bigger than we imagined. Heading south-west, we flew along Rio Tipitatpa, where Lake Managua connects with Lake Nicaragua in what is the largest contiguous reservoir for drinking water in Central America. It could have been a perfect day, but as the flight progressed the wind got stronger. Too strong for some of us. Sick bags became very handy. Finally, with solid ground under our feet again, I thought to myself, that I liked the view very much – but next time I would definitely prefer a windless day.
Jordan's Green Machine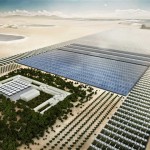 Jordan's government has approved a revolutionary new green project that could transform the country's desert into a green oasis and provide basic necessities like food and water to boot. An environmental technology group called the 'Sahara Forest Project' is creating a massive facility in the desert city of Aqba that promises to turn transform sun and seawater into food, energy and clean drinking water.
And to top it all off, the facility could combat climate change too by pulling in large amounts of carbon dioxide from the atmosphere. An MSN article on the project describes more of the details, including how the solar power plant and the greenhouse system will work.
The facility in Aqba will actually be a demo plant so developers can see how it works before creating more. And it could be up and running as early as 2012. Is this the way of the future for desert landscapes? Would this kind of project work in your country?