Search Results for Tag: U.S.
Google's Big Investment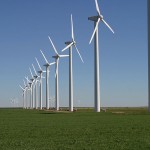 Google has made some major commitments to clean energy, but the company's latest announcement might just be the biggest. Google is investing $100 million into a wind park in the U.S. state of Oregon. This isn't any ordinary wind park, either–it'll be the biggest in the world. It's called Shepherds Flat and it stretches over 30 square miles (around 640 acres) of land. The park is expected to generate 845 megawatts of energy, enough to power more than 200,000 homes. The company says Shepherds Flat will be done by 2012–only a year away!
Google also announced it's teaming up with the U.S. Department of Energy to help electric car drivers find the nearest charging station. Basically, the internet giant will use its "Google Maps" program to create an online database with all the spots where drivers can "fill up."
So far, Google has invested a total of $350 million in green energy projects. Is Google doing a good job? Or are there other companies out there that are making an even bigger commitment to fighting climate change?
Warm Planet, Cold Winter
If you haven't noticed, winter has been especially harsh this year. Much of Northern Europe is in a deep freeze, and any passengers flying through London, Frankfurt or Paris know all too well what this winter has done to travel plans. The U.S. and Canada have been slammed with major snow storms that have left people stranded and desperate during the holiday season. And it's only December…
Some people are wondering: if the planet is getting warmer, why is it so cold? The New York Times has an interesting op-ed article about the reasons behind this trend. The author, Judah Cohen, says increased snow cover in Siberia actually has a major impact on our climate–but he believes scientists have ignored the region's role in warming and cooling earth.
Cohen says snow cover in Siberia has changed jet stream patterns, pushing more air north and south rather than just east and west. That's why Northern Europe and the U.S. have seen such extreme winter weather in recent years. What do you think? Is Cohen's theory a good explanation?
Tags
climate
,
cold
,
Europe
,
Judah Cohen
,
New York Times
,
planet
,
Siberia
,
snow
,
U.S.
,
weather
,
winter