Search Results for Tag: upcycling
Plastic bottles to greenhouses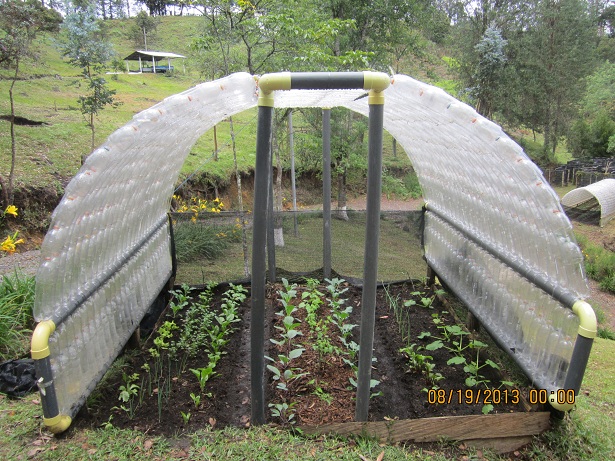 A few days ago we received a very inspiring idea from Colombia. The e-mail came from the Centre for Science and Environmental Awareness and it helps to deal with growing mountains of empty plastic bottles.
We learned from the institute's website that in Colombia an incredibly large amount of 15,000,000 plastic bottles is dumped every day. These bottles are not only thrown into trash bins, they are mainly just thrown away somewhere and this way become a very serious environmental problem.
The Centre for Science and Environmental Awareness tries to tackle the problem. As you can see in the picture, greenhouses are built to grow daily goods. The plastic-bottle-roofs have a size of about 3×3 meters. With only 4 hours work a week the roofs help to feed a family for a whole year, writes Carlos Alberto Yepes Vera, director of the center.
He also calls out to donate bottles or similar garbage to build more of these houses. The project's goal, he says is also to build an awareness among the population to avoid the use of plastic bottles.
We are extremely grateful to hear from ideas like this one, so send us more of it!
Tags
carlos alberto yepes vera
,
Colombia
,
deutsche welle
,
dw
,
garbage
,
global ideas
,
greenhouse
,
plastic
,
recycling
,
reuse
,
upcycling
"No need to apologize for being on this planet"
Author: Kerstin Schnatz
He's the man behind a number of quirky inventions – carpets that make the air cleaner, plastics free of toxic chemicals and underwear that can be tossed on the compost heap. What sounds like an eco-dream has already been turned into reality by Michael Braungart. The German chemist, who is professor of process engineering at Leuphana University of Lüneburg (Germany)  and founder of the Environmental Protection Encouragement Agency (EPEA), aims to radically change the stuff around us. He offered an insight into his work at a conference hosted by the Heinrich-Böll-Foundation on inventions for a better tomorrow in Berlin on Thursday, June 6.
Braungart's concept "Cradle to Cradle" (C2C) is about reinventing the very composition of products, making pens, office chairs and even diapers really useful, re-usable and non-toxic. It's a concept that knows no waste at all.
You think that buying organic food, producing less waste or driving a fuel efficient car are a good start for making our world greener? According to the 55 year-old, these choices are downright wrong. "If you hit your child only two rather than five times a day, you are still making a very bad choice." Braungart says. Just like parents looking for less painful methods of educating their offspring, Braungart wants us to become good consumers. Rather than buying fewer clothes, for example to save on water, chemicals or CO2-emissions, we need to buy smarter apparel, he says. So, clothes that helps our skin breathe better and which can be easily recycled or composted when we don't need them anymore.
Here's Michael Braungart's 2012 talk at TEDx

Unnoticed by most of us, Braungart's revolution of stuff has already started: From underwear to office chairs and carpets over 1,100 products already carry a C2C label.  However,  the concept is highly disputed around the world.  Even the title of his latest book  "The Upcycle: Beyond Sustainability–Designing for Abundance" has raised hackles among many traditional ecologists striving for a more sustainable lifestyle. And his reply to those who want to reduce their CO2 footprint – a trend that many companies have adopted – is devastating:  "You can only be carbon neutral if you stop breathing and don't exist."
Rather than a zero-emission footprint, he says it's better to opt for what he calls a "beneficial footprint." To Braungart, life is not about limiting yourself but about enjoying life – with the right kind of products.  After all, he says, there is "no need to apologize for being on this planet."