Search Results for Tag: Crimea
A clear voice in a war of words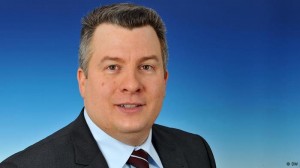 Guest Commentary
Ingo Mannteufel, Head of Russian and Eurasian Services at DW
The current conflict in eastern Ukraine is being played out as much on the front pages and primetime newscasts as it is on the ground in the affected areas. Misinformation coming from Eastern Ukraine is rampant and events become confused as both sides attempt to control the narrative.
Responsible journalism does not contribute to a single agenda or fan the flames of public animosity. In the case of Ukraine, the role of the impartial observer becomes integral in presenting a sober and realistic assessment of the facts aside from jingoistic nationalism or the fog of war. What is said becomes critical in a situation where words are being used as ammunition.
Getting the facts straight in a conflict zone can be a daunting task. In Eastern Ukraine, reporters on the ground have been threatened, accused of telling lies and even imprisoned by pro-Russian separatists. There is a clear and present atmosphere of media control. The United Nations has already called for action against propaganda and misinformation in Ukraine illustrating the need for a reliable point of view.
As an international media outlet with coverage in Russian and Ukrainian, DW can play a very unique role as an impartial broker of information that provides an unbiased presentation of events directly to those affected. Delivering impartial news and analysis is however a big challenge. While neutrality is a fundamental principle of good journalism, certain information will always take precedence. To compensate for this, we always try and provide a wide range of perspectives.
At DW we have seen the numbers of people using our Russian and Ukrainian news services rise dramatically as the situation continues to escalate. This demonstrates a direct demand for the services of third party media organizations. As the conflict in the region goes on, the truth will only become more unclear. That's why we feel it is the duty of international broadcasters, like ourselves, to step in and make sure that all facets of the stories are being told – to ensure that everyone can build their own opinions.
Follow me on Twitter for more news and analysis on the situation in Ukraine