Search Results for Tag: DW News
Limbourg discusses 'Made for minds' and being the Mercedes of the news world at APOS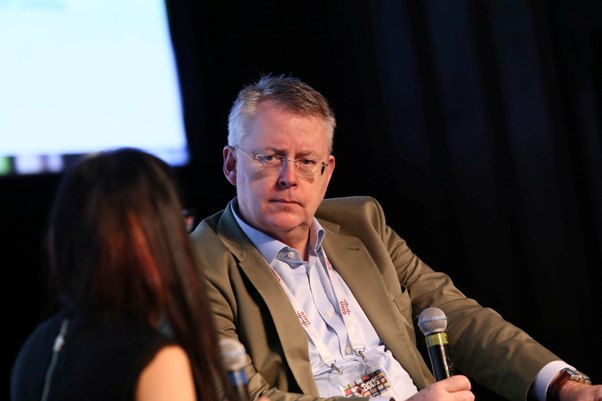 DW's Director General Peter Limbourg took the stage at the fifth annual Asia Pacific Video Operators Summit (APOS) last month in Bali to discuss DW's new slogan, the competition and goals for the future. He used the time to share his thoughts on how the next generation of journalism should evolve and outlined DW's vision for the future – with special emphasis on defining the global information agenda in the context of the upcoming launch of DW's global English-language news channel.
The APOS summit marked the first public appearance of DW's new slogan, "Made for minds", which Limbourg contextualized as being a "compliment" to DW's global audience, which remains in the focus of everything DW does. He added the slogan underscored the importance of the high-quality journalism that DW produces in a global media landscape beset by growing disinformation and propaganda.
At the center of Limbourg's conversation with Janine Stein, the Editor-in-Chief of Content Asia, were the challenges faced by linear news television and what this all means to DW with the launch of the global English-language television channel coming up on June 22.
Limbourg explained that although there was talk earlier at the summit referring to modern linear TV as being analogous to the antiquated fax machine, he would compare it more to a refrigerator – "it has always been there, it will always be there but it doesn't stop you from buying new digital equipment for your kitchen."  He reemphasized that while DW would remain focused on a strong linear TV brand, there would also be investment in programs aimed at younger audiences that would be compatible with social media and mobile devices.
Cooperation also plays a key role and Limbourg emphasized that DW's new English-language channel benefits from the robust relationships with local partners and the breadth of editorial languages at DW, all of which will contribute to the journalistic depth and quality of the flagship news programming. "We can be faster in getting these exclusive and interesting stories," he said.
When looking at the Asian market, DW's coproduction partnerships with Asian partners are beneficial for DW in getting more Asian content into the international channel but also provide opportunities for Asian content to travel globally, which has always been a major goal for Asian content producers. Partnerships like with Euromaxx in China represent a model of success for the future.
Limbourg said that the future of DW will be built on a strong global reputation of quality both in the production and origin  "I think Germany has proven it can deliver good products and it also means that we can deliver good information." To which Stein could only reply, "the Mercedes of the news world."
Other international media with a large Asian presence on the Asian market at the APOS summit included BBC Worldwide, Fox International Channels and RTL CBS. The summit is organized by Media Partners Asia (MPA).
News anchors away: Stewart, Williams and the news about the news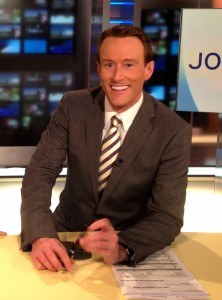 Guest Commentary
Brent Goff, DW News Main Anchor
This was not the way I planned to start the day. In fact, I got very little sleep last night after I heard the news. The news about the news. The news about what the news just lost — times two. In the span of less than an hour, the two most (still) trusted and recognized television news anchors in the United States announced that they are leaving.
When I heard the news alarm on my iPhone and read the headline "Most trusted journalist is hanging it up", I immediately assumed this was the career benediction for NBC's "misremember" main anchor, Brian Williams. But I was jolted out of my sleep when I realized the headline referred to the host of The Daily Show, Jon Stewart.
My instinct — to associate "most trusted journalist" with a major news operation such as NBC — was right and yet oh so wrong. Not immediately including a faux-news anchorman in my calculus of highest trust seemed normal, but it does not compute in the new normal.
And then it hit me: We journalists live and operate in two realities. One, in which we like to see ourselves. The other, in which the world perceives us. The two are disturbingly different.
NBC's announcement that "Nightly News" Anchor Brian Williams will take a six-month leave without pay in the wake of "Misremember-Gate" received cynical eyebrow-raising reactions on social media. Six months? Is that long enough? What happens after six months? Will we forgive and forget and allow Williams to reassume his news throne?
When the flash came that Jon Stewart is leaving The Daily Show, it felt like a modern day version of "Sinners in the Hands of an Angry God". A collective oh-no-say-it-ain't-so rang out across social media. Twitter exploded with #JonStewart along with Internet prayers for Stewart to change his mind.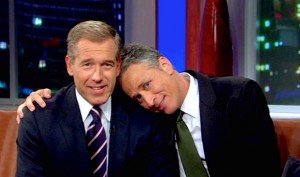 Many people suggested, and not jokingly, that Stewart should replace Williams at NBC. It didn't help that the New York Times reported that Brian Williams had shown serious interest in replacing late-night talk show host Jay Leno. One of the world's most successful and recognized TV news anchors had considered leaving his prized perch to tell jokes and interview celebrities about their laugh lines.  Who can blame the public for being cynical and reallocating their trust?
This crisis of trust knows no borders. In Germany, public television is criticized as a bloated bureaucratic store-house for editors who prefer comfort reporting and resist their duty to act as watchdogs of the government. Even the German version of The Daily Show has not escaped serious breaches of journalism, further adding to the public's notion that reporters are more pseudo than real.
The television itself runs the risk of becoming traitor in the new normal. Thanks to reports that smart TV's may have the ability to record our conversations and forward the information to third parties, consumers are being advised to monitor their chatter in front of the telly.
All of this contributes to an erosion of the trust journalists work everyday to earn. Traditional news authorities lose while unorthodox purveyors of common sense wrapped in satire win the day.
We can't all be Jon Stewart. So what can journalists do to diminish this sad dichotomy?
Consider this: Before the revelations that he lied in his Iraq War reporting, Brian Williams ranked as the 23rd-most-respected person in the US and he drew the largest audience every evening (this, despite the new normal). His ranking is now at 835, putting him on par with cable television actors in series with titles such as "Duck Dynasty".
The point is clear: Despite the massive failings of traditional journalists and the uptake in popularity of faux-news, the public continues to give us the benefit of the doubt. The decades of delivering strong, reliable journalism in Western Europe and North America have not been forgotten. Our journalism transgressions are still met with public redemption. But this won't last forever. Our task is to recommit ourselves everyday to the age-old principles of solid journalism and credible news reporting, and to be courageous and bold in presenting our product as it is: the honorable quest of the truth.
Anyone who would trade that job for late-night talk is not worth losing sleep over.