Search Results for Tag: education
New year, new BOBs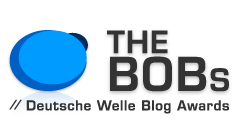 It's that time of year again. DW is looking for your suggestions for the eighth annual Deutsche Welle International Blog Awards – better known as the BOBs. Like last year, we're accepting your favorite sites in 11 languages: Arabic, Bengali, Chinese, English, French, German, Indonesia, Persian, Portuguese, Russian and Spanish. This year our jury of media experts, activists and bloggers will meet up in Berlin in May to debate and decide who takes home top honors in the BOBs.
This year our "Special Topic Award" puts the spotlight on culture and education. This is also the focus of the 2012 Deutsche Welle Global Media Forum in Bonn. While we will certainly continue to commend the bloggers taking a stand for freedom of expression, we'll also be playing special attention to projects and initiatives that look at the right to education and promote intercultural dialogue.
We have already received more than 1,000 suggestions. If you know of a blog that is worthy of a BOB, you better hurry up – we are only accepting suggestions until March 13!
Timeline
Until March 13: Suggest the blogs, websites and projects that impress you.
April 2 to May 2: Look over the nominees and in each category and vote for the ones you think represent the best of the best.
May 2: Sit back and find out who won as we announce the winners.
June 26: Come to Bonn, Germany, and meet the Jury Award winners at the Deutsche Welle Global Media Forum.
Learning by Ear via mobile in Tanzania


DW is now offering its distance-education program Learning by Ear to listeners in Tanzania via mobile phone following a new agreement with Vodacom Tanzania – the country's largest mobile provider with more than 10 million customers.
By using the "Music Radio" program, Vodacom customers now have access to all of the Learning by Ear episodes as audio on demand – on all types of mobile phones. They just need to call a predetermined Vodacom number to tune in – practically turning their mobile into a remote control. No download is necessary.
Learning by Ear, Deutsche Welle's multimedia distance-learning program, examines the challenges that young Africans face and engages listeners in an informative and entertaining way. The programming is a lively mix of in-depth reports, radio dramas and feature stories that will provide listeners with an opportunity to get the necessary skills to succeed in Africa today and to discover a whole new world of knowledge. Episodes are currently being broadcast by more than 270 partners in Africa.