Search Results for Tag: LG
Smart content for smart TVs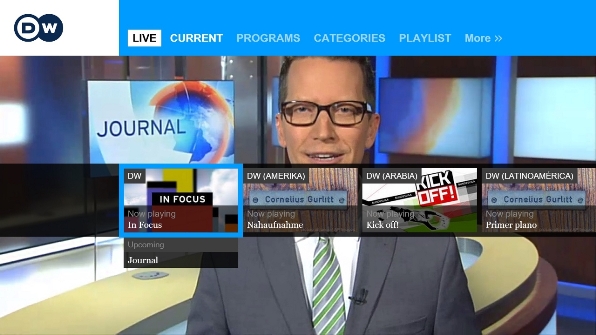 The future of developing smart TV is caught between what audiences are used to and what the user experience can actually provide. Even the best models are held back by cumbersome Internet browsing with a television remote or poor user interface combined with an overwhelming number of applications that complicate entertainment choices.
But people consume information differently than they would entertainment. And a recent study suggests that news apps for smart TVs are among the most popular. Audiences want direct and clear access to broadcast news that isn't constrained by the scheduling of linear television or made tiresome by typing into a web browser. Consumers are buying more smart TVs and even if they don't use the device's full potential, the apps which succeed are going to get enormous exposure.
DW is establishing its place alongside other top international news broadcasters on smart TVs with the continual development of user-friendly apps. The latest development is a deal making the DW for Smart TV app available on all Sony Smart TVs via the Sony entertainment network.  Sony is among the top three manufacturers of smart TVs worldwide.
DW's app unlocks the full potential of smart TV with an attractive layout and on-demand access to the best DW programming and world-class news broadcasting. DW's multilingual and culturally-tailored content knows no borders and will reach high-end market users of this state-of-the-art entertainment technology.
There are also other options for converging the Internet with television. Set-top-boxes are an alternative to smart TVs for providing audiences with a connected entertainment experience. Some critics consider even them to be a more adaptable and  superior alternative. DW is also available on Amazon Fire  set-top-boxes via the Opera Store ,with on-demand content on any television with a Amazon fire box.The DW for Smart TV app is also available via a Google TV set-top-box.
The next step for DW is a planned rollout of the DW app for Android TV. The horizon for innovation stretches far and wide. In the future it is likely that every living room will eventually have a smart TV and DW will be right where the audience is looking.
Market roundup: October 2011
Online
As part of an agreement with the second-largest TV manufacturer, LG Electronics will begin programming apps for DW that will be available on so-called smart TVs. These apps will make it possible for customers to access multilingual content from DW right from their living room.
Latin America
DW is now available GVT, a pay TV platform from Vivendi, dramatically increasing its presence in Brazil. On October 1, DW was made available on the pay TV platform, which makes use of a hybrid broadcast (DTH/IPTV). This is the first platform of its kind in Brazil. It makes it possible to receive programming via DRH and, at the same time, use interactive elements like video-on-demand via IPTV. GVT offers more than 140 channels in three different packages – and Vivendi is expecting a lot of growth in this sector in the next year.
Africa
DW has signed an agreement to work with DBS TV in Cameroon, a station that is based in Douala and available in Africa, Europe, North and South America. Along with taking on DW programming, DBS TV will work with Germany's international broadcaster on a weekly coproduction in the future.
Asia
TempoTV in Indonesia has integrated several of DW's television shows into its line-up, including In Focus, Bundesliga Kickoff, European Journal, Kino, Global 3000, in good shape and tomorrow today. TempoTV is available nationwide and specializes in educational programming. It is available on AORA – a DTH satellite platform – and reaches approximately 400,000 subscribers.
Also in Indonesia, IPTV provider Groovia has been broadcasting DW-TV ASIA+ since July after signing an agreement with DW. Groovia has more than 100 TV channels.
Europe
DW's is now available on Crystal TV – an online provider. The platform makes it possible for customers with PCs, Macs, smartphones, tablets and iPods to access video DW's video live stream.