Changing education landscape of Pakistan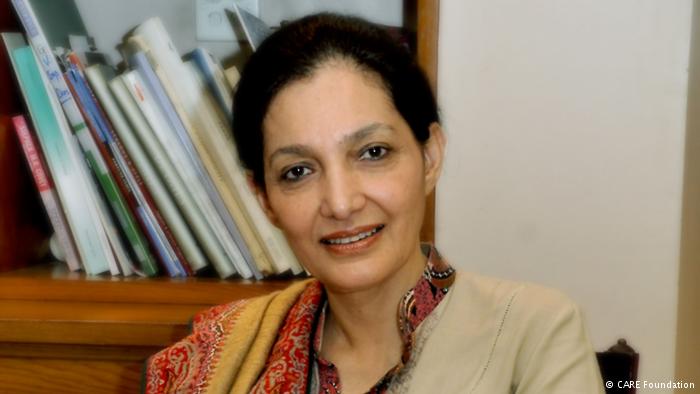 Seema Azis is one of the most prominent business leaders in South Asia. However, she is mostly known for her work in improving the education sector of Pakistan. Aziz runs more than 700 English medium schools in Pakistan for the underprivileged.
In the capital city of Pakistan's province Punjab, Seema Aziz met me in her simple office. Lahore is a city of hustle and bustle but there is a sense of calmness in her office. A rack in her office exhibits samples of intricately embroidered shawls. These high-end expensive shawls are from the latest collection of her landmark brand, Bareeze. More than 600 stores of Bareeze can be found in different parts of Pakistan and outside of Pakistan as well. Being such a successful women entrepreneur in a male dominated society is a success story but she has more to her credit, Aziz runs the largest educational NGO in Pakistan.
Her NGO, Care Foundation, runs more than 700 schools for boys and girls in Pakistan. In 1988 villages around Lahore were inundated with flood waters. Homes perished and crops were destroyed. With the help of her family and friends Azis started building small houses for the poor villagers. During her visits to the village she often saw children playing in dirt. The villages unfortunately had no schools, so the children had no place anywhere near to go and study. She realized that no matter how many houses she built, she cannot protect them forever against floods. The only thing that could make these people resilient and empowered was education. This was the beginning of a project that would change lives of hundreds and thousands of people.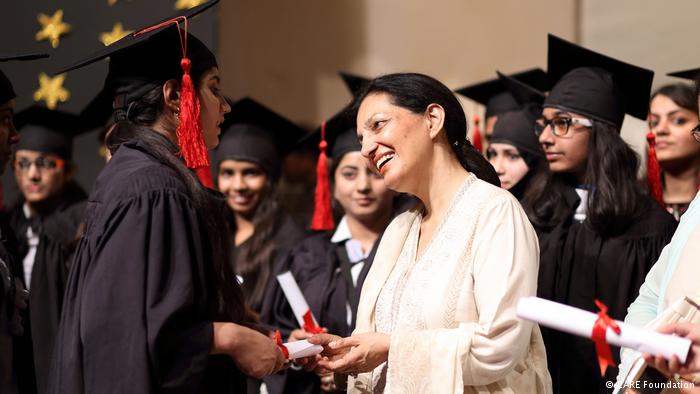 In 1991, Aziz purchased a piece of land near the villages and the construction of the first school started. On 17 January 1991, the local mosques announced the opening of the school and soon afterwards 250 children registered. The school became quite famous soon because it is in English medium and with good teaching staff. That was the time when her son got admission in one of the best Pakistani schools. Aziz started teaching the same syllabus in the village school which was being taught at her son's school. Today her schools are wide spread across Punjab. Few of her schools are also running in Sindh and Khyber Pakhtunkhwa provinces of Pakistan.
Pakistan is a conservative country but boys and girls study together in schools run by Care Foundation. All schools are in English medium. Aziz told me, 'I have never wanted my schools to be Urdu medium. If children from affluent families go to English medium schools than why should children from poor backgrounds only study in Urdu, the national language of Pakistan? It is important to note that most government schools have their syllabus in Urdu while the official language of Pakistan is English. It is really hard for children from Urdu medium schools to catch up with children who have completed their ten years of schooling from English medium schools.
Pakistani Constitution guarantees the right of education for all children aged 5 to16. But in reality a large number of children in Pakistan are not attending school. According to a report released by UNCEF, in 2013 nearly 6.5 million children were not in primary schools and another 2.7 million were not in secondary schools. Many state run schools are called ghost schools as they do not have any teaching staff. Some schools which are operating have poor standard of education and often lack facilities such as drinking water and toilets.
Impressed by Aziz' work the Punjab province of Pakistan has handed over many of the government schools to her. Today more than 200,000 children are studying in schools run by Care Foundation. The schools run morning and evening shifts to teach maximum number of students. Many of the students of her schools have grown to become doctors, engineers, teachers and entrepreneurs.  Aziz is optimistic about education landscape of Pakistan. 'Many girls from far-flung villages walk for miles to come to the schools every day, I have never met any parents who say they do not want their children to study.'
Author: Beenish Javed
Editor: Marjory Linardy
Tags
Care Foundation
,
children
,
Education
,
empower girls
,
Khyber Pakhtunkhwa
,
Lahore
,
Pakistan
,
Punjab
,
school
,
Seema Azis
,
Sindh
,
UNICEF