GirlHype – Empowering women and girls in South Africa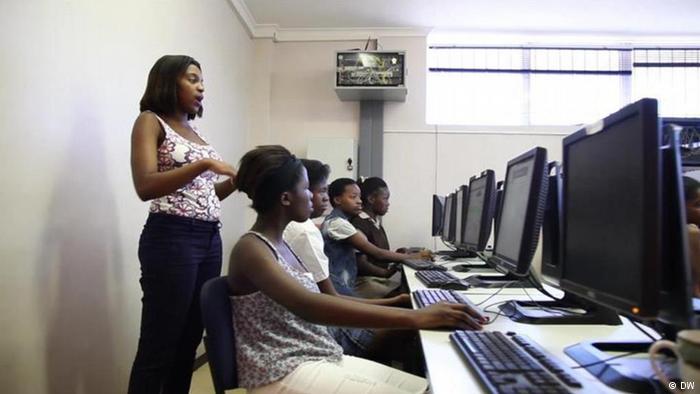 Amidst the grandeur of Cape Town, SA's main tourist hotspot, lies the informal township of Khayelitsha. In stark contrast to the affluent neighboring towns in Cape Town, many people are afraid to venture here and few believe that any good can come from this community. However Baratang Miya, a self-taught software developer and the founder of the non-profit organization GirlHype, believes otherwise. Through her organization, she aims to empower women and girls with technology and entrepreneurship. She delights in finding "wealth" in a community such as Khayelitsha.
Baratang Miya sees technology as a tool that can both "empower and destroy women". She says that there needs to be more online content that is relevant to women and girls, hence she encourages them to read and participate online.
"The more stories told by women, the more women communicate their issues and find solutions, which ultimately impacts on the transformation of women's lives economically, politically and socially," she says. "The internet has a great influence now more than ever, and women have the opportunity to be 'social influencers' by telling their stories, slowly we also reconstruct the social bias that exists in our society."
Miya reaches out to girls while they are still at school, ensuring that they are aware of the variety of career choices and that they do not have to do what the others do or what others want them to do.
"The educational empowerment we offer them cannot be taken away. It's enough to impact the next generation of women," she underlines.
Miya teaches digital literacy, from basic coding to software development. She runs clubs in various schools so girls can learn how to become tech entrepreneurs- something that is almost unheard of for young women in South Africa. She encourages girls to to build their own apps and get them out in the world. Her practical approach inspires 'coders' to get internships at established companies so that they can further develop their talent.
Miya's success story is in itself really inspiring. Since she studied sociology at university, she has a deep understanding of how oppressed women have been over the years by social constructs. After her undergrad studies, she did a post-graduate degree in marketing. Then she launched GirlHype in an effort to bridge the digital gender divide. At every step along the way, she says, she encountered people who taught her how to take her ideas and business to the next level. When faced with challenges, she would teach herself new things or enroll in online classes to get to grips with new technology and technical terms. She has simply never stopped learning or engaging with people and this open mindset has led her to have a far greater understanding of the tech world, than certain academics in the field.
Miya was also selected by a US initiative called Women in Tech, to be part of a mentoring program at Adobe in Silicon Valley. She used this opportunity to rub shoulders with some developers at Google.
We chatted to Baratang Miya about GirlHype, her vision and challenges.
What are you currently working on?
At the moment, we are busy with a women's empowerment program for unemployed female graduates in Cape Town. They are learning Android software development and entrepreneurial skills to take up an entrepreneurial role in the software industry. This is a 12 week-long program and 6-week internship in a software development company. At the end of the course, they will get a diploma from the University of Western Cape, which sponsors the course. They also have an opportunity to be mentored by experts in the industry from BriteHouse.
What are hopes for the future of GirlHype?
To develop a pipeline of talent that the tech industry needs and to close the gender gap. I am hoping to have more investors, start-ups and corporations partnering with us in our mission to create opportunities for women in the tech industry. My dream is to reach a minimum of 200,000 girls and teach them how to code, with a commitment to creating an employee pipeline of 2,000 girls and women toward the technology sector.
How do you use your travel experiences to inspire the girls in the impoverished communities that you work with?
South Africa is extremely racially-divided, which is sad and it's really keeping us behind as a nation. I share my stories and knowledge with girls so that they realize that our uniqueness gives us so much to offer and that diversity is presently a driving innovation throughout the world. If they want to be part of it, it's best to learn how to create solutions that solve challenges in their communities and in the end solve global problems. My trip to Silicon Valley through TechWomen really made me realise how people who changed the world through programming changed the world and that had nothing to do with stereotypes but skills and innovation.
What are your challenges trying to shift the mindset of girls from disadvantaged to empowered?
Shifting the mindsets of girls to transform lack of confidence to self-love and belief that they can do it by providing a safe space to connect and have honest conversations about the things that matter is key to our program. We bring mentors – women who have made it – to share their stories with girls, we take girls on field trips to make them realize what awaits them should they persevere. Besides providing them with the technical curriculum we also teach them how to be good leader and about teamwork and do everything we can to increase their self-esteem and confidence.
Baratang has worked on programs for Mozilla and UN Women that reach out to women in Cape Town by educating them about technology. Gradually, she is reconstructing society, and by educating women she is also equipping them with more choices, showing them that they don't have to stay stuck in a cycle of poverty. Women can now use their imagination and create their own success stories.
GirlHype is also currently working on global initiatives that connect women around the world.
Author: Sarona Wolter
Editor: Anne Thomas
_____
WTO RECOMMENDS
There are different shades of South African women. From caramel, to yellow bone, to peach and beige to brown to melanin envy dark and then 50 shades in between. All of these women are truly beautiful, with a sassy spirit that is required to overcome their back story of struggle and abomination.
South Africa's sexual offense statistics are alarming. A high-profile court case sparked a national debate about rape culture as well as the formation of a group that is fighting for justice for survivors.
Ashle Skaftouros is a phenomenon. After meeting the founder of Kangamama, you simply cannot forget her. She is the poster child of a beautiful African woman. Her a little crazy, a bit cheeky, but always inspiring attitude causes a shift in the atmosphere around her. At least, this is the impression I got when I first encountered her many years ago. She stood out as someone who was destined to make a difference in her world.