Domestic worker won first prize with poem about love and struggles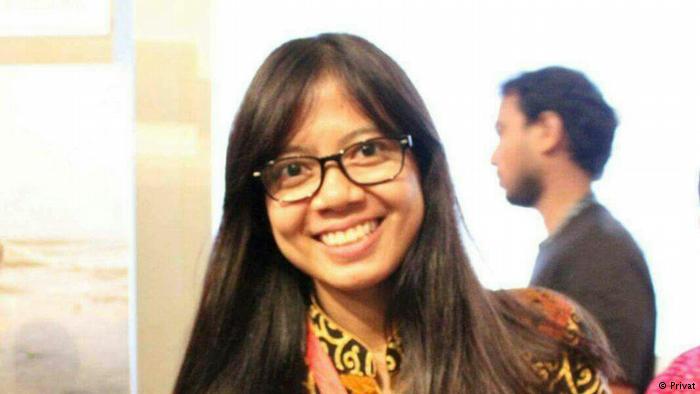 Women triumphed for the first time in the Migrant Worker Poetry Competition in Singapore, as female domestic workers came in first, second and third in its fourth edition on Sunday, December 3. Like many other domestic workers, after her 14-hour work day, Indonesian domestic worker Deni Apriyani retreats to her room in Singapore and reaches for a pen to jot down her feelings, in poem after poem.
"I usually write about my daily life," the 27-year-old said. "I feel satisfied – it's like you have just released something heavy in your head," Apriyani told the Thomson Reuters Foundation from Singapore where she has been a domestic helper for an expatriate family since 2013.
She began writing partly out of loneliness. "I had nobody to talk to, so I wrote funny stories to make myself laugh." She also likes to write comedy, as well as ghost stories and thrillers.
The life of domestic workers
Like tens of thousands of maids in Singapore, Apriyani rises at dawn to clean, cook and look after children but this largely invisible domestic workforce and other migrant workers in the city-state often live in the shadows.
Now a small number have taken to poetry to write about their daily struggles, being homesick, love and joy in an annual contest which aims to break down barriers with Singaporean society by showcasing migrant workers' literary talents.
Apriyani won the first prize at this year's competition on Sunday with a poem about domestic abuse, which was based on an account from a woman in her home village, Indramayu in Indonesia. She met the woman on a chance encounter on a minibus. The woman told her to "be careful in finding a husband" as she herself was stuck in an abusive marriage. "I don't know who she is or where she is now, but she inspired me to write this," says Ms Apriyani.
The judges, playwright Haresh Sharma and poets Chow Teck Seng and Amanda Chong, praised the emotional power of Ms Apriyani's poem, as well as her use of metaphor, which ranged from the visceral "you stepped on my lungs" to the cosmic "you took my twenty stars when I wanted to see/all of them lighten my dark side".
They noted that they had not looked at gender during judging, only at the poems.
Chong, 28, adds: "The migrant workers who have published poetry collections here have mostly been male and it would be wonderful to see a female domestic worker come out with a solo collection soon."
The competition's second prize went to Filipina Naive L. Gascon, 30, who wrote in English about swimming – which she loves, yet feels incredibly lonely doing – while the third went to Ms Fitri Diyah, 25, from Indonesia for her poem, Sunday Morning In Paya Lebar, written in Bahasa Indonesia and based on her favourite weekend hangout.
Giving "a voice and a platform"
Organisers said they have seen steadily rising entries since the competition was launched in 2014, with over 100 submissions this year from migrant workers representing eight countries including Bangladesh, Myanmar and the Philippines.
The poems were mostly written in their own languages before being translated into English.
Organiser Shivaji Das said he had seen a surge in what he termed "activism poems" in recent years which talk about the struggles of migrant workers.
"We have seen poems about their work situations, such as not being treated nicely, not being paid or around their living conditions," said Das, an Indian-born management consultant and author who moved to Singapore 12 years ago.
Migrant rights groups allege mistreatment of domestic helpers is widespread although the Singaporean authorities have consistently denied this.
Das said the aim of the competition was to give migrant workers "a voice and a platform". He added, "It is much more powerful to have them speaking about themselves in their own voice, their dreams and fears".
"The whole idea is when you see them in this way, you tend to appreciate them more as a complete human being, instead of being just an economic machine," Das told the Thomson Reuters Foundation.
Source: Thomson Reuters Foundation and Straitstimes.com
_____
WTO RECOMMENDS
Many of the hundreds of thousands of migrant domestic workers looking for a better life in Hong Kong end up exposed to abuse at the hands of their employers. Zigor Aldama reports with three women's stories.
Despite having a raft of measures to prevent gender-based crimes in Cambodia, women continue to face rampant sexual abuse and harassment. Experts say strict implementation of laws is needed to curb the problems.