2013: Pakistan's women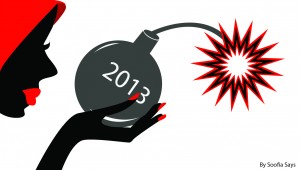 2013 has been yet another tumultuous year for women in Pakistan. When I look back, many tragic incidents stand out but quite a few women have had successes to make us proud.
 December 2013
Women in sports: Who would have thought that a group of well-rounded Pakistani women wearing shorts would be wrestling in a sports arena? Kabaddi, a sport played in South Asia has always been the domain of men in Pakistan. The women's kabaddi team however made history this year by making it to the semifinals in the Women's Kabbadi World Cup. They missed the bronze medal by a single point to Denmark.
November 2013
Reshma no more: Pakistan's legendary folk singer Reshma passed away after a protracted illness. With no formal education, Reshma was discovered for her soulful renditions of sufi songs at the age of 12. One of her most popular songs is "Lambi Judai" (The long separation). We would never forget her mournful voice singing the words that translate to: "Although we just parted not long ago/ For years to come, how will I survive?/ Death does not visit/ but your memories arrive."
The Shadow of the Crescent Moon: Close to the end of this year, Fatima Bhutto launched her novel "The Shadow of the Crescent Moon." The book is set in Waziristan, a tribal region in Northern Pakistan close to the Afghan border and chronicles the lives of five young people living in a troubled world. Fatima Bhutto is gorgeous, intelligent and very angry at the way things are in Pakistan. She is the daughter of the slain Murtaza Bhutto, brother of Benazir.
"I am Malala": Malala's autobiography was launched in Pakistan, penned by Christina Lamb. The book created much controversy in the country and was labelled blasphemous on several accounts. After having read it myself, I must say that it was not an impressive piece of writing with many conjectures and conspiracy theories portrayed as facts. But yes, there was nothing blasphemous about it.
September 2013
A five-year-old girl was left outside a hospital in Lahore in critical condition by a man caught on CCTV camera. She had been brutally raped. The media got active to the extent that they even revealed the little girl's real name and her identity, something that is strictly against all ethics. The child has survived and a suspect has been captured. And then we forgot about her and others violated, every day of every year.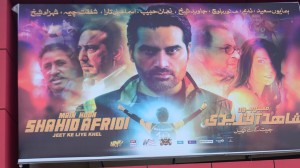 August 2013
Skin baring item: Mathira, a Pakistani model finally made her mark on the entertainment industry by revealing much, if not all. She has made it to the headlines with her nude photos, a bold ad for condoms, a wardrobe malfunction on the ramp in Karachi and finally with a scantily clad belly-dancing "item number" in a Pakistani film, "Mein houn Shahid Afridi," launched amidst media hype. With the central plot of the film revolving around an underdog cricket team, Mathira's one song has created all the buzz the film needed. It is interesting to see that the much anticipated revival of Pakistani cinema comes with a boob shaking and butt thrusting dance number.
Wedding Bells for the Gori: Pakistan's glamorous ex-cricketer Wasim Akram made an Australian woman his own when he married his girlfriend, Shaniera Thompson. As expected from a famous public personality, he happily declared that she has embraced Islam, is learning Urdu and is most eager to settle in Pakistan.
July 2013
Jiya in a Burqa: The first female superhero, Jiya, stole the limelight in an animated TV series, The Burqa Avenger. A school teacher by day, she dons the burqa at night and fights evil by using books and pens as weapons. The TV series was much talked about as for many it depicted women empowerment. For me, it depicts strong religious stereotyping and weird violence.
June 2013
Suicide bombers: A female suicide bomber was successful in killing 14 female students of a university in Quetta. When the injured victims were shifted to the hospital, the hospice was attacked killing security forces personnel.
Honor killings: Three women in Northern Pakistan, a mother and her two teenage daughters, were shot dead by their family. The killings were in reaction to a video in which the girls were seen laughing outside the four walls of their home. They were stated to have brought shame to them. This attack is just one amongst many such cases. It is reported that 900 women were killed in Pakistan last year in the name of family honour.
May 2013
Women who lost but won: They had already made history, the newspapers said. Until they became history themselves after May 11, 2013. Badam Zari contested elections from Bajaur Agency and Begum Nusrat from Lower Dir, both tribal areas in Northern Pakistan. It was the first time in both constituencies that a woman was coming forward despite the threats. Unfortunately they both lost from a wide margin.
Woman on top of the world: A young woman from Gilgit Baltistan, Samina Baig became the first Pakistani female to conquer the peak of Mount Everest. Interestingly, she was joined by 2 Indian girls in this quest and together they alighted national flags of India and Pakistan side by side, as a symbol of peace.
April 2013
She steps down: A woman who stood in elections against influential leaders and Taliban's opinion, Gullana Bibi, 62, stepped down as an independent candidate from Tank district (Northern Pakistan) after she received death threats, courtesy of the Taliban. She wanted to bring change in her village. Her dreams may have been lost for the time being, her courage remains.
 March 2013
A sad day for civil society: Parveen Rehman, an architect by profession and a social worker by choice, was shot dead by unidentified gunmen in Karachi. She was striving to help Asia's largest slum in Karachi by documenting land and protecting it against the land mafia.
Irresponsible Media: In recent years, Pakistan has seen the term "responsible media" abused to great lengths especially by female hosts who assume the role of 'social police' on air. We got to know of Doctor Maria Zulfiqar Khan in February of this year when she conducted a 'raid' on a massage center accusing it to be a sex center. She hosts a program on social issues, in which she acts as a vigilante.
In this particular raid, she harassed the women working there on camera and gave orders to the police to arrest them. The poor women were seen helplessly trying to hide their faces and pleading to be left alone. The hostess went to the extent of going through the handbag of one of the women and displaying a condom that spilled out of the purse. As she was exhibiting the condom she kept screaming, 'what the hell is this? Firstly, she had no legal right to harass women on camera. Secondly, at her age she should know what a condom is.
January 2013
A bloody beginnings: Seven anti-polio workers, six of them women, were shot dead in North West Pakistan. The women, two of them health workers, and others teachers, were part of an anti-polio vaccination programme to deliver vaccines at the families' doorsteps. The Taliban denounced the polio vaccination accusing it of being a Western conspiracy to sterilize Muslim children.
Author: Soofia Says
Editor: Manasi Gopalakrishnan