A small glitter of hope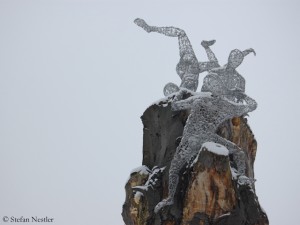 That's the way we humans do: No matter how short the straws are, we clutch at them. There is a small glitter of hope that Gerhard Fiegl is still alive. Since Monday, the Austrian climber has been missing at the 6839-meter-high Nilgiri South in the Annapurna massif in Nepal. Three days after his 27th birthday, the mountain guide from the Oetztal – as reported – fell several hundred meters deep while his two team mates were looking on in horror. Hansjoerg Auer and Alexander Bluemel descended to Base Camp and immediately called for a rescue operation. But snowfall and fog prevented helicopter flights. The search for Fiegl is to be continued. Even if the probability to find him alive is low and decreases as each day passes, we should not give up. Even on the highest mountains, now and again there are stories of survival that are almost miracles.
One of the best
Last Thursday, Auer, Fiegl and Bluemel had set off to first climb the South Wall of Nilgiri South. According to a first statement of Auer they were successful and reached the summit on Sunday. The accident happened during the descent, Fiegl obviously slipped. Further details are not yet known. Gerhard called "Gerry" Fiegl is among the best young climbers in Austria. In March, he opened – along with his friend Hansjoerg Auer – a new difficult mixed route in his home Oetztal. In 2014, Gerry and the South Tyrolean Simon Gietl climbed to the summit of the legendary granite mountain Fitz Roy in Patagonia within only 21.5 hours (look at the video).
Fiegl also often climbed along with Alex Bluemel, for instance in 2013, when they did some amazing climbs in Alaska.
PS: Yesterday I deliberately refrained from disclosing the identity of the fallen climber. Austrian media were less restraint and now Gerry's name is also mentioned in other countries. My thoughts are with the Austrian climber, his family and friends.
Date
30. October 2015 | 17:12