Search Results for Tag: Cameroon
Love first for Cameroonian charity founder
On a trip to South Africa a few years ago, Jesse Carlton Ndongo, 21-year-old student from Cameroon, was touched by the large number of children he met who'd been orphaned by HIV/AIDS. He saw first-hand the pain and anguish they  face, but also noticed that they seem to be neglected by the rest of society.  He felt that he had to do something about it. So three years ago, he founded the Carlton Smile Charity on Easter Sunday.
The charity is already active in five African countries – Cameroon, Nigeria, Gabon, South Africa and Zimbabwe – and has plans to expand even further. Carlton tries to stand out from other organizations in that he doesn't focus first on giving the kids material goods. Instead, his first priority is to show them love.
Listen to the report by Ngala Killian Chimtom in Yaoundé, Cameroon:
Date
Tuesday 28.01.2014 | 14:22
Reggae tunes against bribes
Cameroon's up-and-coming reggae star, Silver, is dedicated to fighting corruption in his country. The 29-year-old uses his music to publicly criticize corrupt politicians and raise awareness for the problem.
Silver started his musical career in 2001 and his debut album, entitled "Reggae Business," became an instant hit because he addressed issues that affected people: not just corruption, but also HIV/AIDS, war, and Cameroon's brain drain.
Listen to the report by Ngala Killian Chimtom in Yaoundé, Cameroon: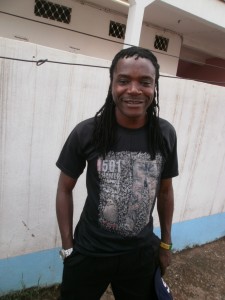 Date
Tuesday 23.04.2013 | 13:18
Rapper twins shrug off stigma of albinism
Twin brothers Clifford and Rene Bouma stand out in their community in northern Cameroon. Not only are they accomplished rappers, they're also albinos – a rare condition affecting people from all ethnic backgrounds where the skin lacks pigmentation. In Cameroon, albinos still face a great deal of discrimination, based on fear and misinformation. Clifford and Rene, both 25, use their music to restore their own self-confidence, encourage tolerance, and give hope to other albinos around the world. Today, they are both university students: Clifford studies anthropology and Rene political science.
Listen to the report from Ngala Killian Chimtom in Yaounde, Cameroon:
Date
Tuesday 04.09.2012 | 12:30