Search Results for Tag: language
Bolivian gives language a digital future
Aymara is spoken by fewer and fewer Bolivians. But 30-year-old Ruben is now working with Facebook and Wikipedia to make sure his indigenous language is armed for the future.
Listen to the report by Peter Teffer in El Alto, Bolivia:
Bolivian gives his language a digital future
Visit Jaqi Aru's website.
Check out the Aymara version of Wikipedia here.
Date
Tuesday 17.07.2012 | 12:50
Teaching Indians to read Karaoke style
Social entrepreneur Brij Kothari has set up an innovative project to teach Indians how to read and write by simply singing film songs in front of the television. Kothari's trick is to subtitle Indian Bollywood songs in the same language in which they are sung in an effort to appeal to the 300 million or so Indians who can't read or write. As they sing along, they learn to read.
Watch this DW video for more.

Date
Wednesday 11.07.2012 | 08:30
Colombian theater teacher passes down his native culture
Edwin from Bogota teaches theater – but also the ancient values and traditions of his native Muisca culture. He's stood up to threats from criminal organizations and encourages his students to be better human beings.
Listen to the report from DW reporter Pablo Medina Uribe in Bogotá, Colombia (with contributions from Eduardo Briceño):
Colombian theater teacher passes down his native culture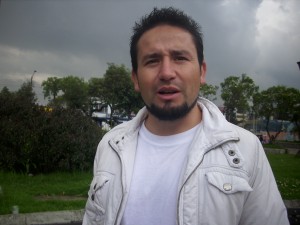 From the reporter:
I met Edwin a few months back when I was reporting on a series of threatening letters sent to artistic foundations in Bogotá. When I met him, he was the spokesperson for all of the threatened groups, so he was being harassed by a few journalists and national TV cameras. On TV, he said, "My name is Colombian Theater" and refused to give his real name because, he said, this wasn't only his problem, it was everyone's problem.
I still managed to get his number and real name and the way he spoke to the cameras stuck with me. Even in times of hardship, he was very conscious that he had to step up not for himself, but for his community of artists. That's why I thought of him for the Generation Change series.
I went to visit him in his neighborhood, Bosa, a few months later. It is way out of the city towards the Southwest of the country, so I had passed it many times, but I had never been actually there. He insisted we meet there because that land is very important to who he is, but since I'd never heard a good thing about that neighborhood, I didn't know what to expect.
When I got there, he started talking about his Muisca heritage and about how the indigenous people are still relevant to the community there. I knew that in other places of the country it is more common to live close to native tribes, but I wasn't aware that this happens also in my own city.
Edwin and his friend Yohanis talked to me for hours as we discussed not only their work, but also Muisca philosophy. We also exchanged book titles and talked about our work. I told Edwin I was very interested in linguistics, so he and Yohanis gave me some lessons in Muiscogun, the language of the Muisca people, and taught me the deeper spiritual meaning of some of its words.
See the Bosa neighborhood of Bogotá on Google Maps here.
Date
Tuesday 13.12.2011 | 13:25