Search Results for Tag: Moscow
Young women volunteers provide companionship for Russia's elderly
Letter writing, entertainment and friendship – no job is too small for Liza Oleskina and Marina Kochevalova when it comes to taking care of the elderly in Russia. They are members of Starost v radost, or "It's nice to be old." Founded in 2006, its young women volunteers provide much needed companionship for the older generation from the Urals to Siberia.
Listen to the report by Geert Groot Koerkamp in Moscow:
Date
Tuesday 26.02.2013 | 16:17
Russian activist changes Moscow by counting cars
Maksim Kats is not your typical politician. The 27-year-old was elected as deputy in the local council in Moscow and has since started counting parked cars in the city with a group of volunteers. They're collecting hard statistics to show that the city is not friendly to pedestrians – and hopefully change the cityscape in small ways.
DW's Geert Groot Koerkamp spoke with Maksim and the volunteers helping him in Tverskaya, Moscow's main shopping street. They have been counting cars and people in several locations in the city, including the district where Maksim is a deputy in the local council. At the same time, they also record other things that are not right, like illegal street advertisements.
Listen to the report from Geert Groot Koerkamp:
Date
Tuesday 24.07.2012 | 13:26
Russian student works toward honest democracy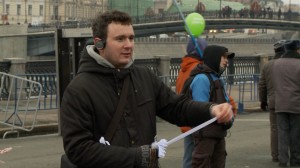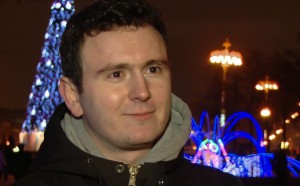 Listen to the report by Geert Koerkamp:
Russian student works toward honest democracy
For a long time, Russians were thought to have little interest in politics. Opposition rallies used to draw only a handful of activists. All that has changed since the parliamentary elections held on December 4, 2011. Frustrated by evidence of widespread election fraud, tens of thousands took to the streets in Moscow alone.
Belonging to the opposition has become fashionable again in Russia, and a growing number of young people are talking part in the protests. Among them is Anatoly Bulgakov, a 25-year-old student who felt he had to take action to show his discontent. DW's Geert Koerkamp met him at one of the meetings against election fraud in Moscow.
Anatoly helps distribute white ribbons, which have quickly become a symbol of the new movement for democracy in Russia. Prime Minister Vladimir Putin only boosted their popularity by alleging that he first thought they were condoms used to draw attention to the fight against aids. The awkward statement was skillfully used by activists in a call to join the protests.
Student activists responded to Putin's condom mix-up with this Youtube video:
Date
Tuesday 17.01.2012 | 13:56