dw.de goes live with new look and address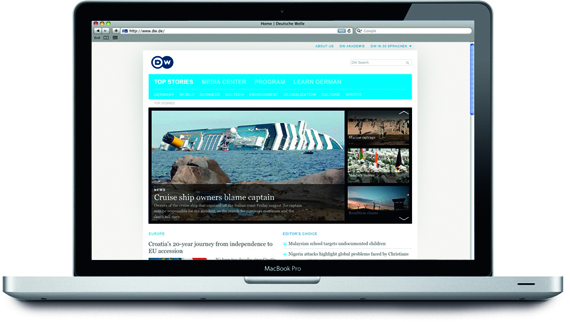 DW has completed its rebranding process with a new online presence that offers more information, a clear structure and fresh design. The new website will retain the multilingual, multimedia content that DW has been known for, but will have a look and feel based on Germany's international broadcaster's new corporate identity. The website also has a new Internet address: www.dw.com.
Users will be able to get their bearings quickly at dw.de due to its intuitive navigation and design. Content is developed and organized exactly to the users' expectations – from the homepage to the last article. Visually, dw.de resembles a high-quality magazine with clearly defined structure and topical focus. And the large-scale layout provides more room for images and videos and makes it easier for the user to sift through the day's news.
The new design is also based on a new technical infrastructure. The website will automatically readjust to match the device that is being used – regardless of it is a desktop computer, a tablet or a smart phone. Access for all of these devices is available today: The media player has been converted to HTML5 – a real bonus for people watching videos on mobile devices.