Search Results for Tag: Brent Goff
Meet the personalities that make DW unique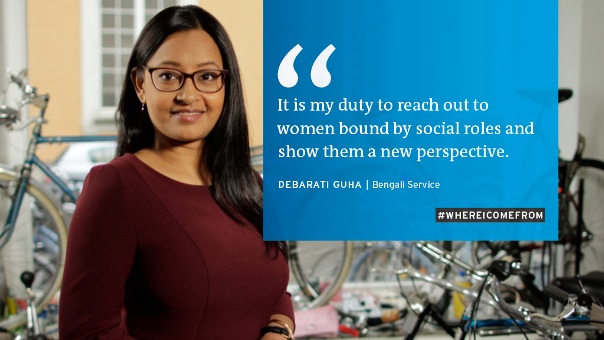 People are at the heart of every great story and a new social media campaign from DW, #whereicomefrom, is focusing on the people who make DW unique. Coming from all over the world, each presenter and anchor at DW has been shaped by where they come from and this shapes the work they do at DW.
Months of research and interviews went into compiling each story for #whereicomefrom and in the three weeks since the project was launched, the 12 profiles have already been viewed over 1 million times on Facebook. The stories are as unique as the presenters themselves and touch upon historical events, cultural nuances and personal hardship.
But what all of the faces of DW have in common is the desire to use their experience and background to expand their audiences' horizons and help them understand the world. And it is this common spirit that brought them to DW.
Lead news anchor Brent Goff came from America to Germany and was inspired by the international atmosphere in Berlin to forge a career in global news. Russian journalist Zhanna Nemstova came to Germany after her father was assassinated in Moscow.
These are only a few of the personalities highlighted by Where I come from and there are also many more people who may be coming next.
DW recognizes outstanding Indonesian journalists
DW continues to promote quality journalism in every corner of the world.  One of the latest initiatives was a competition for journalists in Indonesia conducted in cooperation with Indovision, a local DW partner.  Last week two winners were announced  representing Indonesian print and television media.  Brent Goff, one of DW's top anchors, presented the awards at a workshop event in Jakarta attended by all of the finalists of the competition.
Yogi Apriandi from Popular Magazine and Hatunggal Siregar from Delik RCTI were the two grand-prize winners of a trip to Bonn for the 2014 Global Media Forum. The entrants were asked to produce a journalistic work emphasizing how Euromaxx, Kick Off! ,Global 3000, Shift or Journal influenced Indonesian audiences. An alternative topic was to describe how the Internet influences public opinion.
The finalist workshop called, "produce once, publish everywhere," was focused on developing  state-of-the-art media and independent journalism in Indonesia.
Brent Goff gives his take on the German elections
Guest Commentary
Brent Goff, Host of DW's Agenda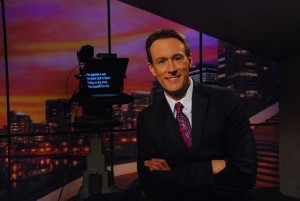 If you have something to say, do it now!  That is the motto for Germany's candidates in these final hours of the campaign. Voters go to the polls Sunday.  I have covered every national German election since 1998, and I can say that the 2013 campaign will go down in history as the biggest sleeper of my career so far.  When campaigning officially began in the summer, polls revealed most Germans were thinking more vacation than choosing a new government.  We talked about political apathy a few weeks ago on my show Agenda with Brent Goff. I asked a German campaign advisor who worked on Barack Obama's winning teams in 2008 and 2012 to explain what could grab voters' attention. 
Now, election day is upon us and the latest poll shows 30 percent of voters still haven't decided what they will do at the ballot box.  An amazingly high number considering all that is at stake in this election!  So this week we highlighted the major issues on Agenda.
On Sunday, I will be anchoring DW's special coverage of the German Election 2013 beginning at 15:30 GMT.  You can watch our live reporting on live stream.  
Here's my list of what to watch for–and my proof that this election will NOT be a big yawn.
1. The new Alternative für Deutschland AfD Party is THE wild card in this election.  The party protests Germany's euro crisis policy and advocates a German exit from the eurozone.  Polls show it may pass the 5 percent threshold to enter parliament.  That would be a symbolic slap in the face to German Chancellor Angela Merkel's marriage to austerity and bailouts.
2. The Free Democrats FDP, the current coalition partner in Germany's government, has become the party no one likes.  Polls suggest it could get less than 5 percent of the vote on Sunday.  That would prohibit entry into parliament and disqualify the party from any coalition.  That would create a mega headache for German Chancellor Angela Merkel.
3. Without the FDP, the conservative CDU party of Chancellor Angela Merkel may have to join forces with its arch rival, the Social Democrats SPD, to form a grand coalition.  The parties have done this before–and it didn't work too well.
4. Last, but not least, watch the Twittersphere for what voters will say about the main candidates and their wardrobes!  During the TV debate between Chancellor Merkel and her opponent Peer Steinbrück, everyone tweeted nonstop about Merkel's necklace with the colors of the German (or Belgian) flag.  Issues matter, you see.
Join me Sunday to watch the results come in.  I promise there will be no yawning and plenty of adrenaline.  Tweet me your thoughts @BrentGoffTV.
See you Sunday!
Check out DW's full coverage of the German elections online.