Search Results for Tag: DD India
DW opens the door for Indian television in Europe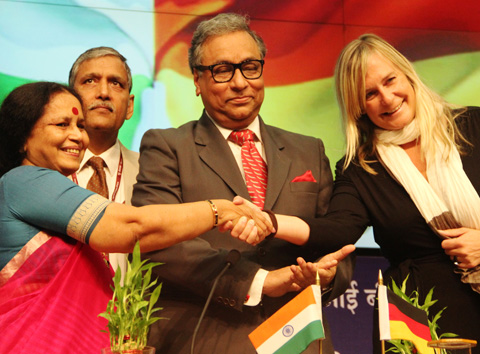 A new deal between DW and the Indian public service broadcaster, Doordarshan (DD), is a groundbreaking step towards bringing Indian television to Europe. For the first time in its 55 years of operation, DD will be available via a free-to-air DTH service outside of India. The deal opens the door to a symbiotic distribution model with which DD India, DD's international channel, will be broadcast in Europe using DW's satellite capacity and in exchange, DW will be broadcast using the satellite capacity of DD Freedish in India.
The exchange of capacities is good for both sides and a positive development in a market where using partners is essential to success. Other international broadcasters like France 24 have also recently signed distribution contracts using DD broadcasting facilities, but unlike with DW, it was a one way deal with no provision for rebroadcasting DD content in return.
Since its launch in 1995, DD India has made many attempts at broadcasting to international audiences and even paid to uplink the channel to satellites. But the lack of any downlink agreements continually kept the channel from being broadcast. DD India's mission is to "build bridges of communication to Indians living abroad and showcase the real India." The deal with DW will give DD India the potential to reach 120 million homes abroad. DW will reach a potential 25.5 million homes in India via DD Freedish.
The deal was announced in a joint press conference in New Delhi attended by DW representatives, officials from the German embassy, and the CEO of Prasar Bharati, which operates DD. DD India plans to start broadcasting internationally via the Hotbird 13b satellite in October.