Search Results for Tag: Prasar Bharati
Using synergies to create an impact
DW has been increasing its presence in Asia by adding more broadcasting and production partners while expanding into new regions. Since the launch of DW News, Asia has taken a larger focus due to its diverse and rapidly-growing media markets.
A big piece of DW's strategy is collaborating with partners in target regions. By building strong partnerships from the ground up, DW can reach more people across Asia with programming that speaks to them.
Representatives from DW are currently in Singapore at the Asia TV & Forum Market (ATF) to explore the potential for growth in content markets across Asia. The event is one of the largest of its kind in Asia and presents a huge opportunity for DW to open new doors and become more visible.
To open doors with audiences, DW develops regionally-tailored co-productions with local partners. Two recent deals with partners in India and Vietnam are the latest advancements for DW in Asia.
The Indian public broadcaster Prasar Bharati and the Vietnamese state broadcaster VTV both signed memorandums of understanding (MOU) to work on co-productions in the near future.
Included in the MOU with Prasar Bharati are the co-production of DW's award-winning lifestyle show Euromaxx in Hindi and dubbing the Hindi science program Manthan into other Indian languages.
"This opens a new chapter in the Indo-German relationship where public broadcasting is concerned," said Prasar Bharati CEO Jawhar Sircar. "We have a special relationship with Deutsche Welle and we hope it will lead to more mutually beneficial broadcasting collaborations."
The MOU with VTV will involve co-producing a new science magazine program. Since 2013, DW has been providing Vietnamese subtitled versions of nine shows including the popular Global 3000 and In Good Shape. Since March 2015, VTV has also packaged and broadcasted a Vietnamese version of Euromaxx. VTV has also broadcast DW's English-language channel in its entirety since 2006.
Producing content that connects with audiences in diverse markets around the world requires more than a one-size-fits-all strategy. DW has always understood this and sets an example for international cooperation in broadcasting that diversifies programming and brings new ideas and perspectives to viewers.
DW opens the door for Indian television in Europe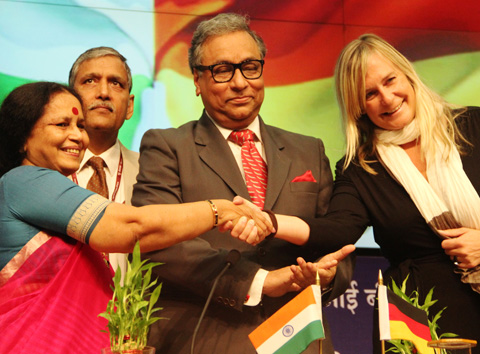 A new deal between DW and the Indian public service broadcaster, Doordarshan (DD), is a groundbreaking step towards bringing Indian television to Europe. For the first time in its 55 years of operation, DD will be available via a free-to-air DTH service outside of India. The deal opens the door to a symbiotic distribution model with which DD India, DD's international channel, will be broadcast in Europe using DW's satellite capacity and in exchange, DW will be broadcast using the satellite capacity of DD Freedish in India.
The exchange of capacities is good for both sides and a positive development in a market where using partners is essential to success. Other international broadcasters like France 24 have also recently signed distribution contracts using DD broadcasting facilities, but unlike with DW, it was a one way deal with no provision for rebroadcasting DD content in return.
Since its launch in 1995, DD India has made many attempts at broadcasting to international audiences and even paid to uplink the channel to satellites. But the lack of any downlink agreements continually kept the channel from being broadcast. DD India's mission is to "build bridges of communication to Indians living abroad and showcase the real India." The deal with DW will give DD India the potential to reach 120 million homes abroad. DW will reach a potential 25.5 million homes in India via DD Freedish.
The deal was announced in a joint press conference in New Delhi attended by DW representatives, officials from the German embassy, and the CEO of Prasar Bharati, which operates DD. DD India plans to start broadcasting internationally via the Hotbird 13b satellite in October.