Search Results for Tag: German courses
DW collaborates with German hip-hop artists EINSHOCH6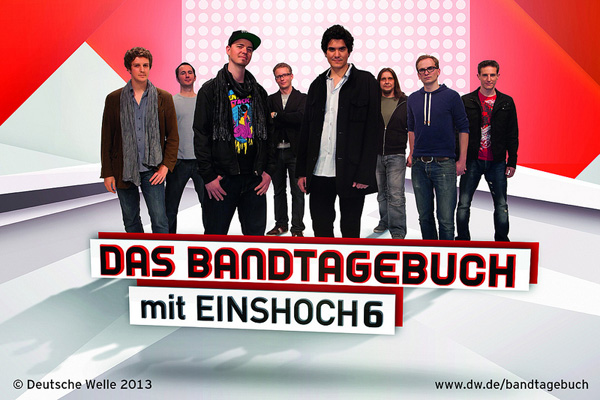 DW continues to expand its range of courses and materials for German learners with a new project featuring the German hip-hop group EINSHOCH6. The group has created a diary that takes German learners on a year-long journey through Germany. With a total of 53 individual episodes, viewers accompany the band during rehearsals, to Oktoberfest and even a bargain hunt at a flea market.
Each month, there will also be a song available to download that has been written for DW and come with karaoke versions, allowing users to test their own hip-hop talents. The goal is to get young people interested in the German language and provide a glimpse into daily life in Germany.
DW's language courses have received multiple awards. As a new teaching format, "Bandtagebuch" will be presented for the first time at the Internationale Deutschlehrertagung (IDT), running from July 29 to August 3 at the Free University of Bozen-Bolzano. EINSHOCH6 will performa at the event:
July 31, 2013, 9 p.m., Parkhotel Laurin (Via Laurino 4, Bolzano)
August 1, 2013, 5 p.m., Free University of Bozen-Bolzano (Ground floor in front of the Aula Magna)
August 1, 2013, 9 p.m., Restaurant/Bar Nadamas (Piazza delle Erbe 44, Bolzano)
A new "Bandtagebuch" episode with EINSHOCH6 will be available each Tuesday, starting July 23: www.dw.com/bandtagebuch
eLearning Age Award for Community D


DW's language courses have once again been recognized for quality – this time at the eLearning Age Award 2011. Community D was awarded a prize for "Best Use of Social Media for Learning". The annual awards were presented for the seventh time in London last week by Bizmedia Ltd, publisher of the trade magazine e.learning age. The jury chose from approximately 250 submissions from 20 countries and awarded prizes in 16 categories. Community D offers German students a great way to meet each other and exchange information and tips about the German language online.