Search Results for Tag: hip-hop
DW collaborates with German hip-hop artists EINSHOCH6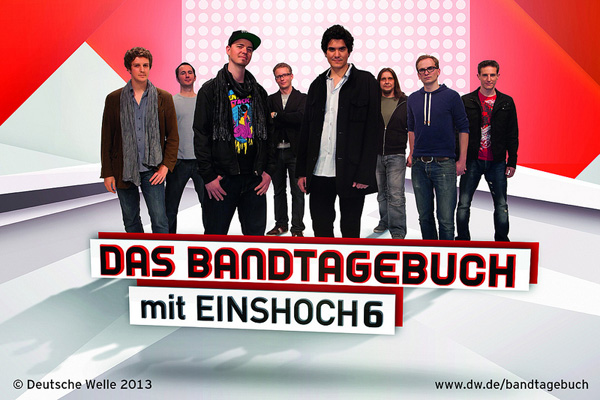 DW continues to expand its range of courses and materials for German learners with a new project featuring the German hip-hop group EINSHOCH6. The group has created a diary that takes German learners on a year-long journey through Germany. With a total of 53 individual episodes, viewers accompany the band during rehearsals, to Oktoberfest and even a bargain hunt at a flea market.
Each month, there will also be a song available to download that has been written for DW and come with karaoke versions, allowing users to test their own hip-hop talents. The goal is to get young people interested in the German language and provide a glimpse into daily life in Germany.
DW's language courses have received multiple awards. As a new teaching format, "Bandtagebuch" will be presented for the first time at the Internationale Deutschlehrertagung (IDT), running from July 29 to August 3 at the Free University of Bozen-Bolzano. EINSHOCH6 will performa at the event:
July 31, 2013, 9 p.m., Parkhotel Laurin (Via Laurino 4, Bolzano)
August 1, 2013, 5 p.m., Free University of Bozen-Bolzano (Ground floor in front of the Aula Magna)
August 1, 2013, 9 p.m., Restaurant/Bar Nadamas (Piazza delle Erbe 44, Bolzano)
A new "Bandtagebuch" episode with EINSHOCH6 will be available each Tuesday, starting July 23: www.dw.com/bandtagebuch
Get the inside scoop on German music
Ask people what German bands they've heard of, and they're likely to say Rammstein or Kraftwerk. But Germany's pop landscape is diverse with a lot to discover. With German Pop, DW has developed a series of podcasts with concerts and portraits covering the spectrum of German pop music. You can subscribe to the podcasts using iTunes or get a quick overview here.
And if seeing is believing, check out popXport or Arts.21 – both of which offer insights into the German music scene.