Search Results for Tag: MRTV
Building a free press from the ground up in Myanmar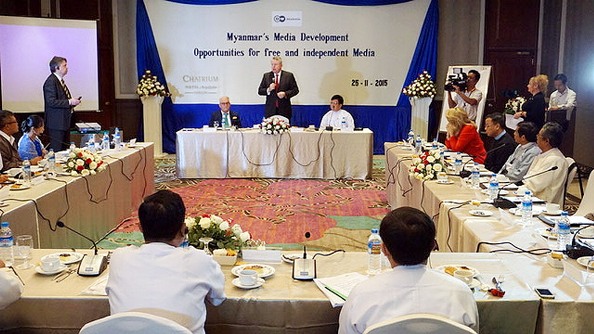 With the change in government in Myanmar, a new broadcasting act is to be put in place that will allow private television broadcasting for the first time in the history of the country.
It is a critical time for Myanmar, which had been ruled by military dictatorship from 1962 to 2011, and with former military leaders continuing to maintain power in parliament since that time. After a parliamentary election on November 8, the NLD party that supports liberal democratic values won a landslide majority vote and now has the mandate to govern.
The importance of a free media in developing liberal public institutions will make itself very apparent in the near future and the level of press freedom that will actually be allowed is something to monitor. Myanmar currently ranks 144th out of 180 nations on the Reporters Without Borders Press Freedom Index. Harassment and imprisonment of journalists was widespread in Myanmar as recently as 2014.
This is why institutions like DW Akademie can make a huge difference. As Germany's largest media development organization, it has been deeply engaged in media development in Myanmar since 2012. With the changes in the past year, DW Akademie's activites in Myanmar have been greatly expanded. In October 2015, DW Akademie worked in cooperation with the United Nations Development Programme (UNDP) and organized a series of workshops to introduce how community broadcasting works. Myanmar also elected a press council and DW Akademie representatives attended the ceremony. Earlier in 2015, DW Akdemie organized a training program for local journalism teachers that will help support the development of local media and promote a culture of quality media at its roots.
DW has also been a consistent trusted advisor to the state broadcaster MRTV and in 2014 helped found the Myanmar Journalism Institute, the first private journalism school in Myanmar. At a recent event, organized by DW Akademie in Yangon, DW's Director General Peter Limbourg met with media representatives to discuss the opportunities and challenges of the transition.
There has also been criticism of a 2014 News Media Law in Myanmar from the free speech watchdog Article 19, with the safeguards for media freedom being,"heavily qualified and insufficient to meet international standards." The media situation began to look better on paper, but according to Article 19, the laws often relied on imprecise legal language that doesn't fully guarantee freedom of expression.
Besides the trappings of governance, there is also the issue of developing a confident and effective media culture in Myanmar, so that journalists know how to do their jobs and take advantage of their potential new freedoms.
Though the transition into a free media market will be a bumpy ride for broadcasters and other media operators in Myanmar, an essential aspect of quality journalism begins from the ground up. If journalists posses skills and resources, combined with freedom to report and produce stories that have a positive effect on the social development of Myanmar, the business side of the problem could have less of an adverse impact. If the new government continues a legacy of bureaucratic and back-door control of the media, it will say a lot about where the country is heading.
Market roundup: July 2015
Asia
DW's new global English news channel is now available in Afghanistan via satellite after a three-year contract was closed with the satellite provider Afghanistan Broadcasting System. The satellite Afghansat 1 is operated by Eutelsat and will carry 60 international and national channels to a potential 1,5 million subscribers.
DW has a new broadcasting partner in Indonesia. The nationwide television provider Sky LBS will now carry the full program from DW's new English news channel via cable, satellite and IPTV. Sky LBS can reach a potential 35.8 million households and has 123 national and international channels in its portfolio.
DW Akademie has opened a new office in Yangon, Myanmar in partnership with the German Federal Ministry for Economic Cooperation and Development (BMZ).  The primary activities of DW Akademie in Myanmar are supporting the transformation of the state broadcaster MRTV and the construction and development of the first private journalism school in Myanmar, Myanmar Journalism Institute. DW Akademie has been active in Myanmar since 2009.
Europe
DW  has partnered with the German UNESCO commission and the German Federal Foreign Office for a conference being held this month in Bonn. The highlight of the conference will choosing a new UNESCO World Heritage Site. For the occasion,  DW produced a multimedia website Wege zum Welterbe that traces a virtual path across all World Heritage Sites in Germany.

Africa
DW and Nigerian broadcaster Channels Television have signed an extensive cooperation agreement.
The new partnership will feature live broadcasts with a DW market reporter from the Frankfurt Stock Exchange and four weekly interviews with DW correspondents covering current German and European issues in society and politics. Channels Television has the widest broadcasting range in Nigeria.