Search Results for Tag: Petra Schneider
Technology is shaping the market
Guest Commentary
Petra Schneider, DW's Director of Sales and Distribution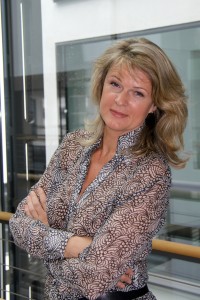 If you wanted to watch your favorite show 20 years ago, it was like catching a train: You had to be on-time. If you were in part of the world with limited entertainment options, maybe a global broadcaster could provide you with a trickle of content. Now fast forward to the Internet age where an endless amount of content covers literally everything imaginable. Things are changing fast and big broadcasters are constantly adapting to make as much available as possible.
Technology has once again triumphed over geography. Producing media that can be adapted to succeed in diverse global markets is imperative as distribution and consumption have become less affected by borders. It has never been easier to access content globally and for media providers like DW, competition is growing in a market sector that was once exclusively occupied by international broadcasters.
These are some of the big issues that will be covered at this year's MIPCOM global entertainment conference. According to MIPcube, broadcasters providing many gateways which guide and facilitate their audience's access to content are those who will succeed. Audiences are quickly changing from passive consumers to active users who demand flexibility in choosing what and when they watch.
Internet Protocol Television (IPTV) is a medium providing on-demand content that is really set to take off— especially in developing markets. According to a study by Digital TV Research, IPTV is projected to add 98 million new subscribers globally by 2018. 71 percent of these new subscribers will be in the Asia-Pacific market.
DW has established brand recognition in markets like Asia and can play off its traditional strengths with content provided on new mediums. Programming packages that are internationally successful, such as DW Transtel, are already available on-demand but they can also be packaged to fit the growing IPTV market and even be connected with other DW media and networked by users on platforms.
The disruptive effect of social media and content sharing on broadcasters and studios should instead be seen as an opportunity. When thinking about how to best use social media, many large broadcasting companies are still stuck on the idea of a sender-receiver dichotomy. Rather than trying to create a dialogue between "us and them", broadcasters should be providing platforms where users can network and share news, video and multimedia content. The interactivity of IPTV packages could allow for this user generated distribution and there is no reason why platforms cannot be managed by large broadcasters. The more flexible broadcasters are in distributing content with rapidly changing mediums, the more successful they will be in growing and maintaining an audience.