Search Results for Tag: Spiegel TV
Market roundup: August 2017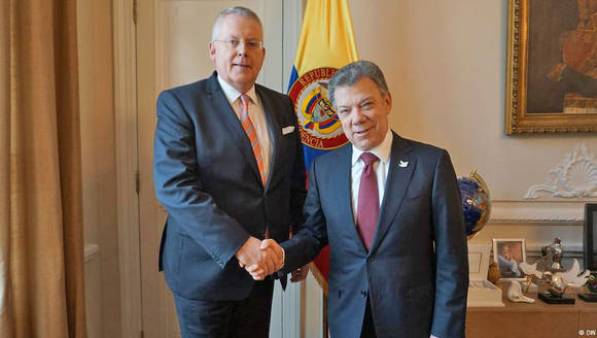 Latin America
DW will be opening a correspondents' office in Bogotá, Colombia in 2018. The new office will add to DW's reporting across Latin America. The plans were announced during a meeting between DW's Director General Peter Limbourg and Colombian President Juan Manuel Santos. The president praised the quality of DW's reporting and is looking forward to welcoming DW's correspondents. With around 14 million TV households, Colombia is DW's second-largest market in Latin America after Mexico.
Online videos from DW are being posted by Brazilian partner Terra using Facebook's cross posting function. It is the first time DW content has been used in a cross posting partnership. The cooperation has already registered an increase in total views for DW videos posted on Terra. Terra posts DW videos on its Facebook page and names DW as a source and links to DW websites.
Europe
Following a new partnership, DW's English-language TV channel will have increased availablity in Scandinavia starting in September 2017. DW's partner channel, Canal Digital from the Telenor Group, is available to 430,000 households in Norway, 255,000 in Sweden, 46,000 Denmark and 34,000 in Finland. The partnership also puts DW's English TV channel in many hotels across Scandinavia.
Spiegel TV is carrying DW's German language programs Euromaxx, Made in Germany, Projekt Zukunft and Reporter on its web TV lineup. The cooperation is expected to be expanded in the near future.
Asia
DW's articles in English and Hindi are now available on the popular Indian news aggregator app, InShorts. The app features articles shortened to 60 words and has 10 million active users.
DW News is being broadcast once a day during the week on Hong Kong's free-to-channel ViuTVsix. DW's English-language channel is also being included in the basic package of Indonesian pay-TV company SMV Freeview. The channel is also being included in the basic package of Hyderabad, Pakistan-based cable station Hyderabad Cable Communication.
Tags
Cross posting
,
DW
,
DW (Latinoamerica)
,
euromaxx
,
Facebook
,
Hyderabad Cable Communication.
,
InShorts
,
made in Germany
,
Projekt Zukunft
,
Spiegel TV
,
Terra
,
ViuTVsix
Market roundup: June 2017

Latin America
Animal Político, a popular news website in Mexico, has recently started including Spanish-language articles and video content from DW. With broad coverage of important news and events, Animal Político promotes well-informed decision making from active citizens in Mexico. The website is a strong partner for DW, with news and information that promotes transparency and helps fight corruption and over 7 million monthly visits.
Telefuturo, a Pay-TV provider in Paraguay is showing a series of Spanish-language magazines from DW (Español). En forma, Enlaces, Europa en concierto, Patrimonio mundial and Visión futuro will be available to around 260,000 households around the country.
Asia
The ICTA (Indonesia Cable TV Association) and DW have agreed to a contract that allows 150 cable companies across Indonesia to broadcast DW. Together, ICTA partners broadcast to around 2 million subscribers. In May, 75 ICTA channels had already begun broadcasting DW.
DW and DW (Deutsch) will be available in libraries, universities and schools in New Zealand via eTV, a non-profit IPTV provider.
Butt Cable TV network in Rawalpindi, Pakistan is a new DW partner offering DW to 6,500 customers.
Europe
The DW documentary, Afro.Germany, is now being shown online by Spiegel TV. There are also plans for showing DW programs Made in Germany and Reporter.
Madsack, a leading German media group is now including DW videos, articles and picture galleries as a integral part of its online content portfolio. Madsack currently owns regional German newspapers with a combined monthly readership of 2.5 million and 4.6 million online users.
Tags
Afro.Germany
,
Animal Político
,
DW
,
DW (Deutsch)
,
DW Espanol
,
En forma
,
Enlaces
,
ETV
,
Europa en concierto
,
ICTA
,
made in Germany
,
Madsack
,
Patrimonio mundial
,
Reporter
,
Spiegel TV
,
Telefuturo
,
Vision Futuro