Digitizing archives in Asia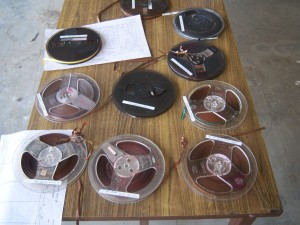 Real treasures can be found in the archives of the state broadcasters Radio the Voice of Vietnam, Radio Nepal and the Sri Lanka Broadcasting Corporation: original audio recordings from the 1930s, historic speeches, old musical recordings. All of that would be lost without painstaking restoration and archiving work.
The three Asian broadcasters have been professionalizing their methods of archiving and digitizing audio tape as part of a long-term DW-AKADEMIE project. At this year's International Association of Sound and Audiovisual Archives annual conference held in September 2011 in Frankfurt, Germany, three head archivists showed how their countries were preserving their cultural heritage with archive management and highly modern techniques.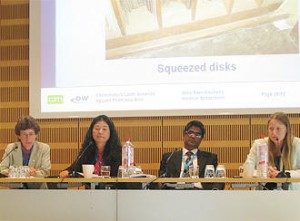 In a joint presentation with DW-AKADEMIE project manager Heidrun Speckmann and archive consultant Mary Ellen Kitchens, the guests Nguyen Pham Hoa Binh (VOV, Vietnam), Sunanda Lalith Kachchadura (SLBC, Sri Lanka) and Tika Prasad Bhandari (RNE, Nepal) spoke about their daily challenges as well as the progress they were making. Using audio samples of restored recordings and photos of old analog records and reel-to-reel tapes they showed how their national broadcasting archives were being modernized. An important aspect of their work, they said, was communicating with each other.
The archive professionals from Radio the Voice of Vietnam – the first broadcaster to begin digitizing its archives – at times now advise their colleagues in Nepal and Sri Lanka. Heidrun Speckmann says that by training experts on site, the resulting cooperation can be intensified over the long run.
"My colleagues were able to establish their work at an international level and make important contacts for exchanging ideas on current archiving issues," Speckmann says. Experts in the audience praised them highly.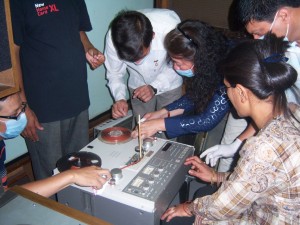 The goal of this long-term project in Asia is to preserve historic documents and in turn preserve cultural legacies. Whereas Radio the Voice of Vietnam now has its own digital audio archive, the challenge facing colleagues in Nepal is that much of their analog material still needs to be identified. Tika Prasad Bhandari, a musician and head archivist from Nepal, told of a personal, emotional experience in his archiving work: among the audio tapes he found a recording of his own voice made 15 years ago. It was only then that he realized the recording he had made had been stored in his archive.
By Charlotte Hauswedell