Search Results for Tag: germany
DW Akademie together with Germany's Robert Bosch Stiftung has wrapped up the selection process for its Meeting and Exchange Project for Indian Journalists . Almost 150 journalists from all across India applied for this project.
The call for applications to the fellowship was launched online. The reaction to it by far exceeded all expectations. "We were extremely impressed by the high number of talented and qualified journalists applying," says project manager Sabina Casagrande who spent two weeks evaluating the applications together with her colleague Patrick Benning. Both project managers admit they would have loved to invite more journalists to participate. "It was heartbreaking to have to reject so many promising candidates," they say. However, six fellows between the ages of 25 – 35 will be heading to Germany in September for one-and-a-half months of journalistic and intercultural training. They will also be putting together a multimedia project on the topic of sustainability. Here's a quick peek at the participants:

read more
Tags
bonn
,
exchange
,
fellowship
,
germany
,
india
,
journalism
,
journalist
,
multimedia
,
online
,
robert bosch stiftung
,
sustainability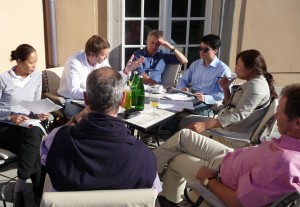 How can the media cover climate change? How do Vietnamese journalists report the topic in their country's media and how do German journalists cover it for German audiences?
These were the key questions for the first German-Vietnamese Media Dialogue in late September 2011. Journalists from different media in both countries got together to discuss the issue in Germany. The German Federal Foreign Office had invited them to the four-day event, providing a forum for discussion, presentations and excursions. DW-AKADEMIE and GIZ-AgenZ planned and organized the event.
There are key differences in how journalists in both countries can cover environmental issues and the effects and causes of climate change. Vietnam is one of the countries worst affected by the impacts of climate change: It has a coastline of more than 3,000 kilometers and is experiencing an increase in typhoon activity, heavy rains and dry spells.

read more