Action learning in Laos
DW Akademie trainer Daniel Hirschler sends this report from a workshop in Laos.
As a trainer, I like working with what I call "action learning settings". This basically means designing the workshop in a way that learning happens in a good mix of experiencing something and then talking about it and reflecting upon the experience.
Workshop designs are like recipes for cooking: It's not just the amount of the ingredients that counts, it's also their quality. And as with any recipe, things can work out perfectly, but they can also go terribly wrong. So for a trainer, going into an action learning workshop can be fraught with tension. Will things work out? What if they don't…?
Recently, we had the pleasure of "cooking something up" in Laos that turned out beyond and above expectations. Our trainees were a group of journalism teachers of the National University of Laos. The topic was "interviewing" and the setting we had chosen for this training session was a press conference.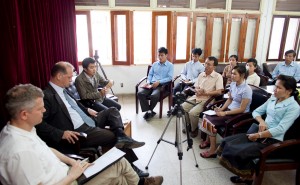 Our trainees played the interviewers in this mock press conference. The interviewee was the German ambassador to Laos, whom we had invited to our session.
We had prepared the mock press conference with our trainees. We had researched questions to ask the German ambassador, but there wasn't much information in the Laotian media about him yet: the ambassador had only recently been assigned to his post in Vientiane. Of course there was information about him in German and English, but it was hard for our trainees to find information in Laotian. As always, the language barrier was a big obstacle for any kind of research in Laos.
Ambassador Robert von Rimscha spent 90 minutes with our group. A full hour for the press-conference-style interview and 30 minutes of evaluating the experience from both sides.
For the Laotian journalism teachers, this was a unique occasion to approach someone this "high-ranking", as they described the ambassador.
The scenario gave them a chance to experience what real-life journalism feels like and to practice their interviewing skills. At the same time, this simulation of a real-life situation showed them a possible setting for practical journalism training.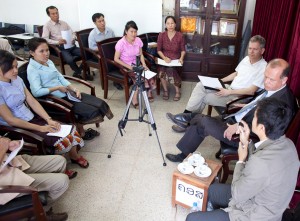 As trainers, we were grateful the ambassador shared both his time and his experience: Having been a journalist himself before working as a politician and diplomat, he offered a rich blend of insights from many perspectives. And as we were off-the-record and off-air, he sometimes forgot about his diplomatic wording and gave clear opinion, personal profile and background information. All perfect ingredients for cooking up an "action learning setting" that fostered learning for workshops to come.
by Daniel Hirschler
For more information check out these articles
Educators embark into a new era of journalism in Laos