Reporting on natural disasters
By Riazul Islam
Natural disasters like cyclones and floods are a regular phenomenon in my native country Bangladesh.
As a result, the media there frequently reports on natural disasters. But working on these types of stories requires a special approach, two journalists working in the Bangladeshi capital Dhaka told me.
Mustafizur Rahman is a journalist from New Age, a daily English newspaper published in Dhaka. Iftekhar Mahmud works for Prothom Alo, the leading Bengali newspaper in Bangladesh. They shared their experiences and opinions on what preparations journalists should take before and while covering a natural disaster. Mustafizur and Iftekhar say a reporter faces many challenges when going to cover an area hit by a natural disaster. Before departing to the region, a journalist should of course be sure to check his equipment. But there are other key issues to remember when writing a report on the affected area and its people.
Eyewitness reporting
"Reporting on a disaster is different from general reporting, because the reporter has to personally go to the area that he wants to write about," said Mustafizur. "You can collect information about anything by making a telephone call or by interviewing some experts. But when you are reporting about a natural catastrophe, you must see what happened there. You have to be an eyewitness of the suffering of the affected people. Your imagination will not be enough to project their suffering in your report."
The right equipment
Following a natural disaster, the affected area often lacks everyday facilities like electricity, drinking water, etc. Sometimes the telecommunications system also breaks down. Keeping this in mind, a reporter should come prepared and carry the necessary equipment.
Iftekhar visited areas hit by two big cyclones in Bangladesh: Aila in 2009 and Sidr in 2007. He explains that he needed added preparations for reporting from these regions.
"When going to cover any area hit by a disaster, you should take first aid and medicine, enough dry food and drinking water," he says. "For reporting, you need a recorder as well as a camera. Don't forget your laptop and take two internet modems – in case one doesn't work – extra batteries and a charger and multiple plugs with cables." Iftekhar adds that it's better to take a life jacket if you have to travel by boat.
A contact address
It's usually necessary to stay in a disaster-hit area for a longer period in order to report accurately. In this case, it's necessary to arrange a place where you can stay overnight. This contact address is also important for your employer so that they can contact you anytime they need or can send you anything you need.
"In this case, I always try to contact an NGO or an aid organization before I reach the affected area," says Mustafizur, who traveled to the area hit by hurricane Aila in 2009 and has also reported from flood areas in recent years. "They help me to arrange a place where I can stay overnight."
Necessary numbers
Covering disasters doesn't only mean reporting the facts and the suffering of the people. A journalist should also report on the cause of the disaster, rescue efforts or any lack of aid. It's therefore important to talk to various aid organizations, rescue forces as well as local authorities to report on the various aspects. In preparation, the reporter should make sure to pack all the necessary phone numbers and addresses of his interviewees.
Keep your cool
A reporter traveling to an area hit by a natural disaster has to be prepared to encounter disturbing images. Iftekhar recalls the shocking scenario after Aila and Sidr.
"I saw many dead bodies that were floating in the river along with the dead animals," he says. "I almost couldn't breathe because the air was full of stink and poison, and the condition of the people who survived was miserable. It was unimaginable. Sometimes I was exhausted from seeing all this misery." Iftekhar, who has covered many disaster-affected areas in the past few years, recommends that a reporter has to be mentally prepared for facing any kind of a situation when covering a disaster. Without strong nerves, it is not possible to cover a natural disaster, he says.
Reporting isn't activism
Even though a reporter is a human being, he should not forget about his professional duties. Despite the humanitarian situation, a journalist should keep looking for stories on the cause and effect of natural hazards. He himself should not engage in the relief work. Instead, the reporter should contact experts and find out about any possible negligence from the authorities – keeping in mind to relate both sides of the story.
Resources for reporters
The UN has published a handbook for journalists who cover natural catastrophes: "Disaster Through a Different Lens."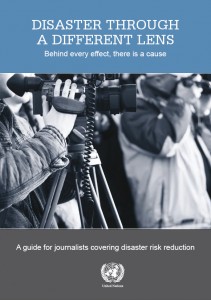 As the title suggest, this booklet focuses on disaster risk reduction. It gives tips for reporting and contains useful information on different types of natural disasters like droughts, earthquakes and hurricanes. In addition, it presents some risk-reduction lessons learnt from previous disasters like the 2004 Tsunami in the Indian Ocean, the 1991 eruption of Mount Pinatubo in the Philippines or the 2005 Kashmir earthquake in Pakistan. It even lists some disaster risk reduction resource centers, publications and experts.
After a disaster has occurred, most reporters will look for follow-up stories. According to the book, you can find angles for such stories if you
1. investigate the lack of early warning,
2. probe the lack of urban planning, and
3. question the preparedness of those responsible in the disaster management department of the authorities.
Another good source of information about disaster preparedness is the booklet "Disaster Programme Information and Reporting," published by the International Federation of Red Cross and Red Crescent Societies. You can download it for free. Among other things, it explains how journalists can collect data in the disaster-hit area.
The International Center for Journalists (ICFJ) has also published a manual that can come in handy for reporters. It's called "Disaster and Crisis Coverage" and is also available for free as a pdf download.
Training on disaster management
Different branches of the Red Cross and Red Crescent offer training programs and workshops on disasters, in which reporters can participate.
There are also many public and private organizations and institutes in Asia who offer different training courses on disaster management. The Press Institute of Bangladesh (PIB) provides different workshops on disaster management for journalists, which help reporters understand various aspects of a disaster.
There are also training programs offered by the South Asian Association for Regional Cooperation (SAARC). Here is a list of upcoming training programs, which include training on disaster management and the role of the media.
In India, there are many institutes that offer disaster management courses. Follow this link to find the names of the institutes from every state of India.
Author: Riazul Islam
Riazul Islam is a student enrolled in the International Media Studies program at DW Akademie. Born in Dhaka, Bangladesh, he started working there as a reporter eight years ago. He has worked for different newspapers and radio stations, including DW's Bengali service.
Tags
bangladesh
,
catastrophe
,
disaster
,
Disaster and Crisis Coverage
,
Disaster Programme Information and Reporting
,
Disaster Through a Different Lens
,
drought
,
hurricane
,
Iftekhar Mahmud
,
Mustafizur Rahman
,
PIB
,
Press Institute of Bangladesh
,
Riazul Islam
,
SAARC
,
South Asian Association for Regional Cooperation
,
tsunami