Search Results for Tag: phnom penh
Workshop "Politics on the Web! Political Reporting in Social Media in Cambodia"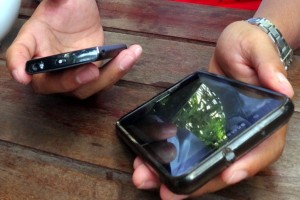 DW Akademie is calling for applications for the workshop "Politics on the Web! Political Reporting in Social Media in Cambodia". It will take place in Phnom Penh, Cambodia from December 5-9, 2016. Find out more in the links below.
In this installment of our Journalists@Work series, we talked to Kem Sokunthy (Kunthy), a radio producer from Cambodia. In April 2013, Kunthy participated in the radio workshop "Inclusion of people with disabilities" held by DW Akademie and the Women's Media Centre of Cambodia (WMC).
Kunthy studied literature, education science and political science at different universities in Phnom Penh. During her studies, she also gained journalistic skills at the Cambodian Ministry of Information.
These days, Kunthy works for WMC Radio FM 102, which produces educational programs designed for all sectors of Cambodian society, especially women in rural areas. In this blog post, she gives us some insight into her work as a journalist in Cambodia.

read more