Search Results for Tag: tsunami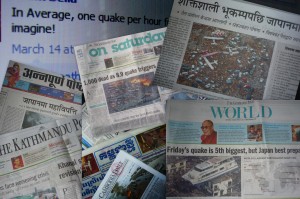 Recent events in Japan shocked the world. The magnitude 9.0 earthquake that hit on March 11
th
and the tsunami and nuclear disaster it triggered have been top developing stories for media everywhere. But the focus and style of reporting differ from one country or region to the next.
Here in Germany the media have devoted much attention to the nuclear catastrophe at the Fukushima reactors (see for example
Spiegel Online's English-language coverage
) and the resulting danger of radiation threatening human health and the food supply. Of course German news outlets also reported extensively about the rescue efforts after the tsunami and the aftermath of the devastating quake. Those stories, however, didn't take up quite as much space in the newspapers and on TV news broadcasts as Japan's nuclear crisis. The reason behind this may be that Germans still clearly remember the aftermath of the
Chernobyl
nuclear disaster in 1986, but have never experienced a tsunami in their country.
DW-AKADEMIE's Asia blog asked former trainees to tell us how the media in their countries have been dealing with the events in Japan. Reports arrived from China, Nepal, Cambodia, Indonesia, Bangladesh and the Philippines. Over the next few days we'll publish a series of guest blog posts revealing what our community of journalists have to say about Asian coverage of the ongoing crises in Japan. First in the series is the view from China.

read more


1
2