Search Results for Tag: elderly
Young Brit brings tech to the elderly
Keeping up to date with new technology can be daunting for people of any age but if you're in your 70s or 80s and have gone your whole life without mobile phones, let alone Facebook and Twitter, new technology can be downright frightening. Nevertheless, many senior citizens have to get used to the Internet to do essential things like pay bills and book doctors appointments.
And that's where Rachel Elson comes in. The 20-year-old from Walsall in the English Midlands has decided to give up her spare time to teach older people about new technology.
Listen to Liam Starkey's report from Walsall:
Young Brit brings tech to the elderly
Date
Tuesday 03.09.2013 | 12:42
Young women volunteers provide companionship for Russia's elderly
Letter writing, entertainment and friendship – no job is too small for Liza Oleskina and Marina Kochevalova when it comes to taking care of the elderly in Russia. They are members of Starost v radost, or "It's nice to be old." Founded in 2006, its young women volunteers provide much needed companionship for the older generation from the Urals to Siberia.
Listen to the report by Geert Groot Koerkamp in Moscow:
Date
Tuesday 26.02.2013 | 16:17
Dignity in disease
Playing the piano, going for walks and doing household chores are what make Daniel in New York an everyday hero for Alzheimer's patient Byron O'Connell. Now he's making a film to encourage those dealing with the disease.
Listen to the report from Laura Postma in New York:
Pictures: J.P. Dobrin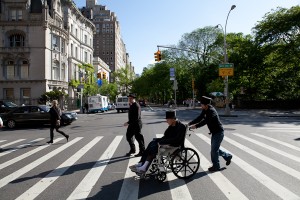 Byron has helped Dan see people differently
More on Daniel Davy's blog.
Date
Tuesday 04.12.2012 | 12:48