Search Results for Tag: US
Feeding forward in California
Every day, 263 million pounds of consumable food is thrown away in the United States – enough to fill a football stadium to the brim. At the same time, nearly one in six adults doesn't know where their next meal will come from.
As president of Feeding Forward, a non-profit organization that fights food waste and hunger in the local San Francisco Bay Area, Chloe Tsang is working to change that.
The 20-year old student at UC Berkeley spends her spare time overseeing the website and app Feeding Forward created to make private food donations quick and easy.
Listen to the report by Anne-Sophie Brändlin in Berkeley, California:
Date
Friday 27.12.2013 | 10:32
Comedian and actress tackles racism with humor in NYC
Forget the "Shit Girls Say" Youtube meme. American comedian and actress Francesca Ramsay a.k.a. Chescaleigh's parody spanning a mere two minutes got over nine million hits. Infusing humor into the serious issue of race relations in America, she's encouraging others to speak out.
Listen to Rachael Bongiorno's report:
Listen to Rachael Bongiorno's report:
Date
Wednesday 06.02.2013 | 14:42
Dignity in disease
Playing the piano, going for walks and doing household chores are what make Daniel in New York an everyday hero for Alzheimer's patient Byron O'Connell. Now he's making a film to encourage those dealing with the disease.
Listen to the report from Laura Postma in New York:
Pictures: J.P. Dobrin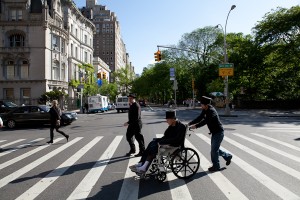 Byron has helped Dan see people differently
More on Daniel Davy's blog.
Date
Tuesday 04.12.2012 | 12:48