Search Results for Tag: illness
UK mentor brightens dying child's world
What's it like to know you're going to die soon? If you're 10 years old and terminally ill, what you probably need the most is a good friend. Shlomie, a youth orthodox Jew from northern England, is like a big brother to a terminally ill boy. Sharing the gift of quality time, says Shlomie, is a small sacrifice that makes him feel on top of the world.
Listen to the report by Andrew Edwards in Manchester:
Date
Tuesday 02.04.2013 | 13:14
Dignity in disease
Playing the piano, going for walks and doing household chores are what make Daniel in New York an everyday hero for Alzheimer's patient Byron O'Connell. Now he's making a film to encourage those dealing with the disease.
Listen to the report from Laura Postma in New York:
Pictures: J.P. Dobrin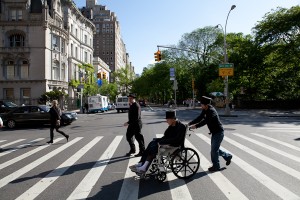 Byron has helped Dan see people differently
More on Daniel Davy's blog.
Date
Tuesday 04.12.2012 | 12:48