Search Results for Tag: religion
French student believes in inter-religious dialogue
In a secular country like France, religion is rarely mentioned. But one young student is campaigning to make sure that Muslims, Christians and Jews tal­­­­k to each other about their faith. Samuel Grzybowski believes that interfaith is central to helping France establish a strong identity in the 21st century.
Listen to the report by Naomi Scherbel-Ball in Paris:
French student believes in inter-religious dialogue
Here is Coexister's website, in French.
Date
Tuesday 03.07.2012 | 12:16
Mission possible in Paris
Tiffany Tiberghien wanted a job that had meaning. For this 24-year-old Parisienne, that meant putting her Christian faith into practice. When she was 21, she spent a year working as a missionary in Vietnam, where she dedicated herself to children who had been abandoned because of their physical or mental disabilities. It was a life-changing experience. "When you give love, you get it back several times over," Tiffany said.
When she returned to Paris, she decided to find similar work closer to home. She now organizes a chaplaincy for teenagers in the East of Paris – a place where often poor and isolated children can come and talk.
Listen to the report by John Laurenson: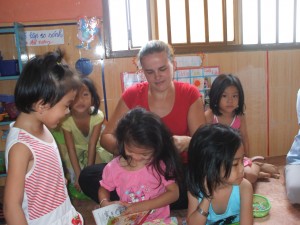 Date
Tuesday 27.03.2012 | 12:53