Search Results for Tag: Arab Spring
Journalisitc expertise has helped define the Global Media Forum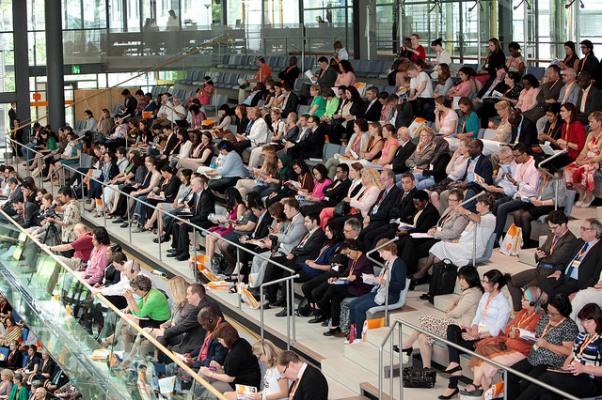 An important part of DW's mission is sharing its 60 years of journalistic and media experience with the world. DW has organized a number of events at the 2014 Global Media Forum in cooperation with organizations and partners which represent the high level of expertise at Germany's international broadcaster.
Complementing the focus of this year's conference is a panel organized by the DW Akademie that explores the state of participatory and community-based media in developing countries. The session titled, The power of the neighborhood: How local media organize participation and how DW Akademie supports this, showcases three projects that foster grassroots journalism from partner organizations that span the globe – Welad Elbalad Media Services from Egypt, Open Development Cambodia and Plataforma de Periodismo from Colombia.
With a focus on the watchdog role of journalism is a session titled Whistleblowers, activists, journalists: Is advocacy journalism the journalism of the digital age? The panel includes an editor from Zeit Online and a professor of entrepreneurship and media literacy from the Walter Cronkite School of Journalism and Mass Communication at Arizona State University. The emphasis is on how digital media allows journalists to shed their neutrality and take an active stance on social issues.
Those interested in the EU and public participation should look at a session titled, Turning disinterest into engagement through innovative media formats.  Hosted by DW in cooperation with the Institute for Foreign Cultural Relations (ifa), the discussion explores innovations in social media and journalism that are combining to increase citizen engagement in social issues, particularly with the context of EU policy and elections.
At the intersection of social media and human rights is a talk hosted by DW titled, Revolution postponed. The Arab Spring and Africa The discussion brings together African social media experts and journalists to analyze the state of social movements all over Africa, whether it is the Arab Spring in the north to political protests everywhere from Angola to Zimbabwe. The panel will explore if the movements have lost momentum and what the future may look like.
Tags
Africa
,
Arab Spring
,
Die Zeit
,
DW-AKADEMIE
,
Egypt
,
Germany
,
innovative journalism
,
Institute for Foreign Cultural Relations
,
Latin America
,
media training
,
Open Development Cambodia
,
Welad Elbalad
,
whistleblowers
New coproduction with Voice of Lebanon (VOL)
"What happened in Syria is a catastrophe," said one of the guests in the first episode of talk show "Rabia Al-Shabab" – a coproduction from DW and Voice of Lebanon (VOL). It might just have set the tone for the entire series, which celebrated its premier on January 17. "Just like in our television talk shows, we are using radio to create a dialogue between young people in Germany and the Arab world," said Rainer Sollich, head of the Arabic editorial team at DW.
The radio coproduction will be aired every Tuesday on VOL's  FM frequencies in Lebanon and in neighboring Syria. "We expect controversy and are looking for continued debate on our Arabic Facebook fan page," said Sollich. Khaldoun Zeineddine from VOL and Yasser Abumuailek from DW hosted the first show, which highlighted the teamwork between the teams in Bonn and Beirut.