Search Results for Tag: Art Beats
DW finds new opportunity in Cannes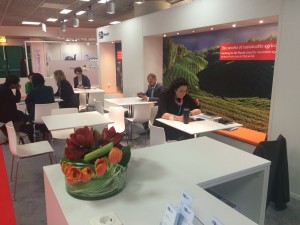 The MIPTV conference in Cannes is one of the most important media industry events worldwide, bringing together executives and content producers to make deals and exchange ideas. Representatives from DW Transtel along with DW producers were in Cannes this year to discuss potential new coproduction projects and negotiate new content partnerships.
Two DW Transtel productions Art Beats and Farming for the Planet were highlights at MIPTV this year. The high-quality documentary productions from DW Transtel offer international partners a wide variety of content ranging from nature and science documentaries to culture and history. Another trend seen at this year's MIP TV is the growth of online and mobile productions, which are a growing complement to traditional television formats.
DW Transtel at MIPCOM 2012
DW Transtel will be covering a vibrant spectrum at this year's MIPCOM with new shows like The Allure of Nature, Art Beats and Beyond Progress, as well as a range of new episodes from favorites like Ecopia and Struggle for Survival.
"Our strength has always been in the areas of documentaries, infotainment and European culture – and we continue to find different ways to inspire and capture the imagination of our audiences worldwide," said Petra Schneider, DW's Director of Distribution. "Our viewers may have different backgrounds, lifestyles and interests, but what they have in common is a need for interesting, new insights and viewpoints not available from other sources."
New programming titles
The Allure of Nature casts a spotlight on the breathtaking images of nature from the most unusual perspectives. The color and texture of the natural world is captured from unexpected angles to reveal not only its beauty but also the power it wields.
Beyond Progress casts a critical light on the scientific and techno-logical achievements of our time and discusses their ecological, eco-nomic and ethical impact and questions the value and price of those achievements.
Art Beats celebrates the unsung heroes of culture; street musicians and graffiti artists, samba and tango virtuosos, masters of caricature and satire and their power to unite nations and peoples.
For more information, visit us at Booth 19.14. at MIPCOM 2012 from October 8-11.