Search Results for Tag: Bogota
Market roundup: December 2014
South America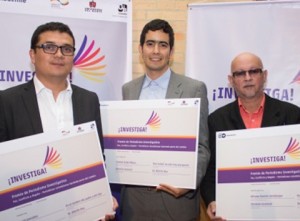 For the third time, DW Akademie has awarded its ¡Investiga! along with the Universidad del Norte in Bogota, Colombia. The prize for journalistic excellence is supported by CdR – an independent association of journalists in Bogota. This year, three pieces of research were presented, which all had to do with the topics of "peace, conflict and region". David Gonzalez project about the murdered journalist Luis Eduardo Gomez and his murdered son was the winner of the ¡Investiga! this year. Alfonso Hamburger took second and Felipe Motoa placed third. As the contest's winner, Gonzalez will be flown to Berlin to take part in a workshop, as well as going to Bonn to work side-by-side with online journalists in DW's Spanish department.
DW's magazine about culture and the arts that was developed for Portuguese-speaking audiences has now been taken on by a new partner. Viewers throughout Brazil can now tune in to Camarote.21 on the Canal Futura. Part of the GLOBO media group, it's the first, private TV channel in Brazil that exclusively broadcasts educational content. Canal Futura reaches 66 million households nationwide in Brazil.
Asia
Okto, Singapore's public broadcaster, will is including Arts.21 and Euromaxx Highlights into its lineup. Okto is available nationwide in Singapore and due to its availability on platforms like Singtel and Starhub, is one oft he most popular in the country.
Shan Cable Network and Global Cable Network in Pakistan are now broadcasting DW's English channel. These new partnership deals will make DW available in an additional 105,000 housholds.
Tags
Arts.21
,
Bogota
,
Brazil
,
Camarote.21
,
Canal Futura
,
Colmobia
,
DW-AKADEMIE
,
Investiga
,
OKTO
,
Shan Cable Network
,
Singapore
,
Universidad del Norte
Market roundup: August 2014
Latin America
DW presented the winners of a multimedia journalism competition with their prizes in Colombia at an awards ceremony held at DW's Colombian partner station, Señal Colombia, in Bogotá. The contest received a lot of attention from Colombian media and the awards ceremony was attended by many prominent journalists and media producers. Two grand prize winners received a trip to Bonn for the Global Media Forum and four others also received prizes. Around 60 participants competed in the contest which was centered on environmental and ecological issues. The contest ran from the end of last year to April and was divided into video and print categories.
Asia
DW has a new web TV partner in India. Zenga TV, one of India's leading portals for TV live streams will now carry the English-language channel, DW. The channel is also available via Zenga on mobile devices. The service currently has 21 million registered subscribers.
Indonesia's largest pay-TV platform, Indovision, is now including DW in its expanded IPTV service, Playmedia. The provider expects to draw 1.5 million new subscribers with the service.
The Taiwanese cable provider Digidom will now carry the English-language channel, DW. The provider delivers local and international TV channels to Taipei.