Search Results for Tag: BTV
DW introduces new program and local heroes in Dhaka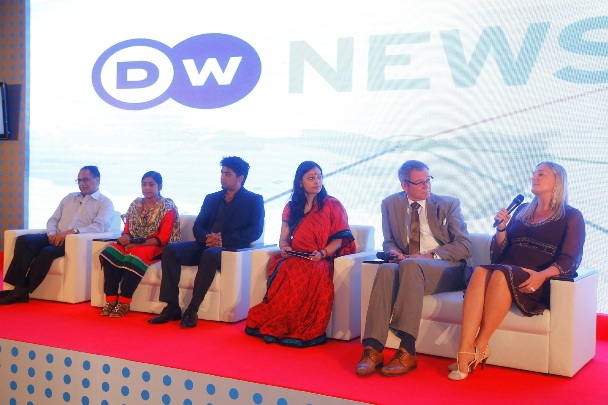 DW was in Dhaka this week to provide journalists and media professionals a look at the the new 24/7 English news channel presented in cooperation with local partner Bangladesh Television (BTV). The flagship program, DW News, features a programming block that focuses on regional issues for Asia and content with regional significance in cooperation with local partners. These co-productions will maintain DW's standards while allowing partners the flexibility to use their own graphics and on air personalities – a method that succeeds in combining international expertise with regional appeal.
In Bangladesh, DW reaches an audience of opinion leaders and people who are curious about learning and seeking information. Dorothee Ulrichs, DW's Head of Asia Distribution said theses are people who aren't satisfied with tag lines or headlines and want to "discover new places and understand the 'why' in the world around them".
Part of the global launch of DW News last June was a promotional campaign that focused on the audience and highlighted local heroes in regions all over the world. Local heroes are people who make a difference in their communities by working, thinking, creating and innovating. Two Bangladeshi local heroes were guests at the launch in Dhaka. Their work sets an exceptional example.
Mahfuza Akter is an Infolady – volunteers who bike hundreds of miles a month to provide advice and medicine to thousands of people in remote, impoverished villages around the country. Using the Internet, they connect people with modernized methods and ideas that they cannot access elsewhere. Their work also earned them a 2013 DW Bobs online activism award. And Korvi Rakshand founded the JAAGO foundation in 2007, which provides education for disadvantaged children living in slums. The school also promotes volunteer action groups in Bangladesh through the initiative Volunteer for Bangladesh. The project has organized over 10,000 volunteers in Bangladesh who are working to enact positive social change.