Search Results for Tag: Global Media Forum
DW puts the focus on human rights in 2011

DW wants to help create a platform for dialogue about human rights and globalization with new programming and content in 30 languages. This multimedia project, Human Rights 2011, is a reflection of the Deutsche Welle Global Media Forum, which is taking place from June 20-22, 2011 in Bonn. The conference's topic this year is "Human Rights and Globalization – Challnges for the Media".
The multimedia project on human rights 2011 will examine modern basic needs like the right to work, food and housing. Unique reports and features shed light on individual stories from around the world – whether that be rising prices and famine in Senegal, drug-dealing gangs in Colombia and dangerous jobs in India.
Special insights are provided from human rights experts like Monika Lüke, the Secretary General from Amnesty International in Germany and John Rugie, UN Special Representative of the Secretary General on human rights and transnational corporations and other business enterprises.
Find out more about Human Rights 2011.
Or check out the line-up for this year's Global Media Forum.
Voting starts for 'Klick!'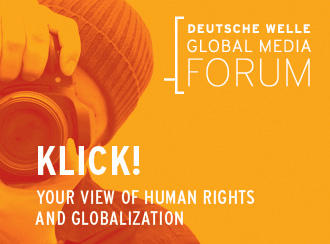 As part of thie year's Deutsche Welle Global Media Forum, DW has organized a photo competition in association with Amnesty International. Internet users and fans now have the opportunity to vote for their favorites and select the 30 finalists – which will be shown at the Global Media Forum in Bonn from June 20-22.
"Klick! – Your View of Human Rights and Globalization" was open to professional and hobby photographers from around the world.
Go to the Facebook page for the Global Media Forum to vote!