Search Results for Tag: content
DW reaches out to young listeners in Afghanistan with new mobile service for Learning by Ear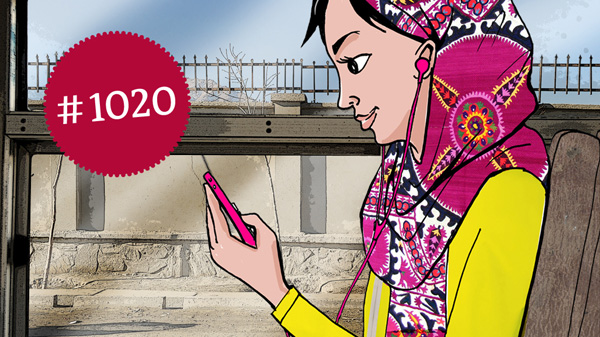 Deutsche Welle (DW) is making its Learning by Ear service even more accessible to listeners in Afghanistan by providing content to mobiles with partner Afghan Wireless Communication Company (AWCC). With more than 17 million mobile phone owners in Afghanistan, the cooperation with AWCC will help to expand the reach of DW's hit educational program.
"This new service appeals to a younger, more mobile target audience," says Anne Hufnagel, Head of Distribution for Asia at DW. "We expect and are looking forward to a significant increase in the number of listeners."
Mobile users in Afghanistan just have to dial 1020 which will take them to an audio menu. They will then have the choice to listen to the Learning by Ear episodes in either Dari or Pashto on-demand. The service is free of charge and currently offers 10 episodes of "Becoming Afghanistan's Superstar", a program that showcases the extraordinary story about a young girl who struggles to participate in Afghanistan's song contest.
Learning by Ear has been broadcast with support from the German Federal Foreign Office in Afghanistan since 2009. With partners like Ariana Radio and Radio Nawa, the series has become popular for young adults and teens. The new Learning by Ear mobile service will be promoted through a text message campaign, print ads and daily spots on television and radio.
Market roundup: March 2012
Asia
DW has a new partner for digital television in Malaysia. Asian Broadcasting Network (ABN) started broadcasting DW in February. The digital cable provider has around 500 channels and is working on becoming Malaysia's second largest digital TV provider. They are trying to acquire 500,000 customers by the end of the year.
DW is also now available around the clock in Tokyo with NEW IT Venture (NITV). The newly-founded Japanese IPTV provider will be broadcasting DW programming in English.
In Pakistan, DW's English TV channel is now being offered in the Sindh province. DW recently signed an agreement with Orient Multimedia Cable Network und Sky Cable TV Network.
Europe
DW has expanded its online presence in the Ukraine by acquiring a new premium partner. DW content has been available on Ukr.Pravda since February 23. The website features news and information in Russian and Ukrainian and receives approximately 260,000 visits each day. It is currently second in the "News & Media" category from LiveInternet.ru. DW content – including full-length articles and links – can be found in a special section for international mass media on Ukr.Pravda. All articles appear with the DW logo and are prominently promoted on the homepage.
DW puts the focus on human rights in 2011

DW wants to help create a platform for dialogue about human rights and globalization with new programming and content in 30 languages. This multimedia project, Human Rights 2011, is a reflection of the Deutsche Welle Global Media Forum, which is taking place from June 20-22, 2011 in Bonn. The conference's topic this year is "Human Rights and Globalization – Challnges for the Media".
The multimedia project on human rights 2011 will examine modern basic needs like the right to work, food and housing. Unique reports and features shed light on individual stories from around the world – whether that be rising prices and famine in Senegal, drug-dealing gangs in Colombia and dangerous jobs in India.
Special insights are provided from human rights experts like Monika Lüke, the Secretary General from Amnesty International in Germany and John Rugie, UN Special Representative of the Secretary General on human rights and transnational corporations and other business enterprises.
Find out more about Human Rights 2011.
Or check out the line-up for this year's Global Media Forum.