Search Results for Tag: IS
Shababtalk engages Iraqi youth in Mosul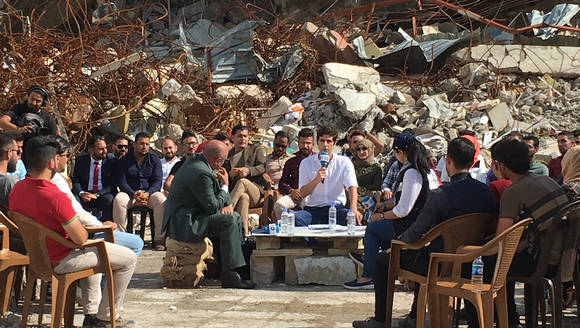 DW's talk show for Arab youth, Shababtalk, recently produced a segment in the Iraqi city of Mosul together with local leaders, NGOs and 250 Iraqi students. Mosul was liberated from the so-called Islamic State (IS) in June 2017, and a lot of the city is still in ruins.
The host of Shababtalk, Jaafar Abdul Karim, said that the scene in Mosul's destroyed old town was very shocking – even after his extensive experience in different crisis regions. The discussion centered on the challenges of rebuilding the city, dealing with the influx of refugees and the rights of minority people in the region. DW worked with local Iraqi production partner Alrasheed TV on the special episode.
Even during the conflict, DW provided a sense of connection to the outside world. One participant in the discussion said that Shababtalk was his "window to the world" during the IS occupation of the city.
The series has made an impact in recent years with young audiences from around the Arab world. The visit to a city like Mosul so directly affected by conflict is a big step for Shababtalk and is an indicator of how important free media and international broadcasting is to regions trying to develop positively for the future.